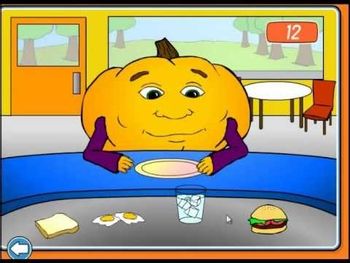 "Pumkin Land" (AKA: "Pumkin World") is an "educational" Flash game aimed at younger children. The game is based on a series of educational digital tools that teach children English language basics.note By this, we mean that it teaches kids the names of everyday things like clothes, colors, and food. These include games and cartoons featuring anthropomorphic pumpkins. (Or as they call them: "Pumkins.")
Not much is known about this game but it has been discovered by Lets Players and Youtube Poopers alike and has gained a memetic status.
The most infamous parts of the site have been taken down, but are archived here.
Due to Flash being shut down, you'll need a third-party player, which might not work properly.
---
Pumkin Land is made up of the following minigames:
Hungry Pumkin: A game that teaches types of food and drinks. This is the most well known and infamous part of the game. You play as a diner worker and you serve the customer whatever food he orders.
Numbers: This game teaches numbers. You play as a pianist in a concert hall and you must hit piano eyes in succession according to their numbers in order to play a song.
In-On-Over-Under: This game teaches the words; In, On, Over, and Under. You are in the living room of a house inhabited by an alligator who tells you to place several objects in, on, over, or under several places in the house. (Ex: "Put the pencil on the table.")
The Fruits Game: Exactly What It Says on the Tin. This game teaches types of fruits. Also involves catching fruits that are falling from a tree.
Barnyard Disco: This game teaches types of farm animals. You are at a "Barnyard Disco" and you must click on whatever animal the DJ calls out.
Vegetables: This game teaches types of vegetables. A (presumably) blind rabbit wearing sunglasses asks you what vegetables are in the garden to eat. You are supposed to click on whatever vegetable he asks for.
The Clothes Game: This game teaches types of clothing. A female Pumkin character is hanging laundry on a clothesline on a windy day. Meanwhile a talking crow will call out certain types of clothes and you must click on them, the wind then blows them off of the line.
The Colors Game: This game teaches types of colors. Various multicolored Pumkin characters (without arms or legs but still have faces) fall out of the sky one by one. They will say aloud their respective colors when you click on them.
Give me the tropes:
---
You know, that wasn't too bad!
---