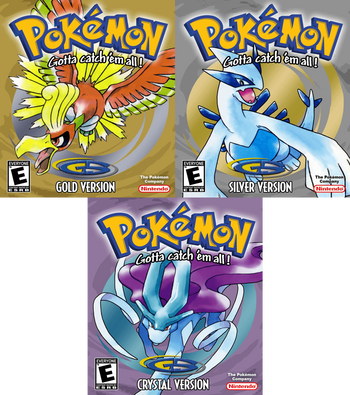 "Enter a whole new world, with new Pokémon to capture, train and battle! Meet Professor Elm and get the all-new PokéGear, including map, radio, cell phone and clock. Set the clock then watch as day turns to night and events take place in real time — and be sure to keep an eye out for Pokémon that come out only at night!"
— Blurb on the back of the boxes of Pokémon Gold and Silver Versions
The year is 1996. A game from Nintendo and Game Freak called Pocket Monsters Red & Green is released in Japan to immense critical and commercial acclaim, becoming an international sensation after its release in the West as Pokémon Red & Blue. Recognizing the potential a success like this brought, the developers decide to create a sequel; like its predecessor, this sequel was developed for the Game Boy. Unlike its predecessor, however, it experienced some Schedule Slip that motivated the developers to shift the project to the Game Boy Color, for which it was eventually released. Aided by the late Satoru Iwata (who would later become Nintendo's president), Game Freak moved the series into the "second generation," unveiling a new region filled with more Mons, threats, and challenges to await players.
Set three years after the events of Pokémon Red and Blue Versions, a young trainer sets out to collect the eight badges of Johto (based on the Kansai region of Japan as well as portions of the Chubu and Shikoku regions) and challenge the Elite Four so that they can earn their own place in the hall of fame. Along the way, however, they have to contend with a callous thief and the reemerging threat of Team Rocket.
Released in Japan in 1999, North America and Australia in 2000, Europe in 2001, and South Korea in 2002, Gold and Silver introduced many new concepts to the series, like an In-Universe Game Clock (with certain Mons appearing or evolving during certain times of day), the ability to equip Pokémon with items, rare alternate colorations, genders for Pokémon outside the Nidoran lines (though some species are still genderless), and with that the ability to breed baby Pokémon. It also expanded and reconfigured numerous other gameplay elements, like the addition of two new elemental types (Steel and Dark, bringing the grand total to 17), splitting the "Special" stat into separate attack and defense scores, and new skills designed to give other elemental types a more level field to battle against the previously unbalanced Psychic-type.
One year later, an Updated Re-release appeared: Crystal. On top of a new subplot revolving around Suicune, a slight graphics bump, and other minor differences, Crystal marked the debut of the Purely Aesthetic Gender option in the series, offering players the choice of a male or female player instead of simply giving them a male character. The franchise was supposed to end there (Tsunekazu Ishihara stated
in an "Iwata Asks" interview that the developers saw Generation II as too difficult to outdo at the time), but the intense critical and commercial acclaim the games received convinced Nintendo and Game Freak to continue making games, with the third generation being Pokémon Ruby and Sapphire.
In late 2009, these games were remade into HeartGold and SoulSilver for the Nintendo DS. Unlike the remakes of the first generation games (which mostly updated them to Generation III's mechanics and graphics), these remakes pulled elements from everywhere else in the series; not only did they include the added plot points from Crystal, the original storyline was further expanded upon, pulling in cameos and Continuity Nods from later regions. New minigames were added via the Pokéathlon and PokéWalker, and one of Yellow's main gimmicks was brought into play, allowing trainers to let one of their Pokémon run free behind them and interact freely with them instead of remaining on standby like the rest of the player's Party in My Pocket. Major changes were made to some areas as well, such as the addition of a new Safari Zone (noticeably missing from the original versions), which can be accessed even before beating the game, and new dungeon and Gym layouts.
On June 6, 2017, it was announced the Gold and Silver versions would be re-released for the 3DS Virtual Console via Nintendo eShop, adding the same features as the Virtual Console releases of their predecessors, including compatibility with Pokémon Bank and Poké Transporter and wireless battling and trading, as well as retaining the original Generation II games' ability to use infrared communication for Mystery Gift. Crystal was later announced to get the same treatment on December 14, 2017, with it releasing on January 26, 2018. This version of Crystal had the additional bonus of having the Mythical Pokémon Celebi available without the need for events.
The Iwata Asks interview for Pokémon HeartGold and SoulSilver Versions can be viewed here
.
Finally, there was also a hilariously nonsensical bootleg translation of Crystal in Vietnam.
---
open/close all folders
Tropes used in Gold, Silver and Crystal
Tropes appearing in HeartGold and SoulSilver
---