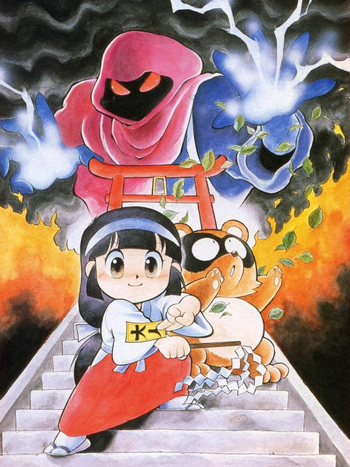 Pocky & Rocky
(Japanese: 奇々怪界,
Kiki Kaikai
, "Strange and Mysterious World") is a series of
run-and-gun
video games originally created by
Taito
. The game started with
Kiki Kaikai
for arcade, but the first game that received official international release was the SNES installment
Pocky & Rocky
, whose name has stuck since.
The series features various adventures of a young Miko named Pocky (Sayo-Chan in Japan), who usually has to save the Seven Lucky Gods
and the boat they were in. Joined by her fellow tanuki Rocky (Manuke), she must fight everything in her way, most of which consist of various odd Youkai. Due to its feudal Japan setting, Pocky doesn't use usual projectiles like typical run-and-gun protagonists and is instead equipped with rapid-fire Ofuda and a Gohei.
The series consists of the following games:
Kiki Kaikai (Arcade, 1986)

The first installment in the series, this game was only released in Japan. It was re-released in Taito Legends 2 (all versions).

Kiki Kaikai: Dotouhen (Famicom Disk System, 1987)
Pocky & Rocky (SNES, 1992)

First game released in the west and first Co-op game of the series. This game was developed and published by Natsume.

Pocky & Rocky 2 (SNES, 1994)

This game features changeable sidekicks instead of two equal characters. Also developed and published by Natsume.

Pocky & Rocky with Becky (GBA, 2001)

Despite similarly titled name, this installment goes back to the roots by re-introducing the systems of the first game. Developed by Altron, but still published by Natsume in the US. Miki is renamed to Becky to keep the naming scheme.

Pocky & Rocky Reshrined (Nintendo Switch, PlayStation 4 and Steam, 2022)

A direct sequel to the SNES Pocky & Rocky, produced by Tengo Project, the same team in Natsume that developed the SNES games.
The series also have a Spiritual Successor with Heavenly Guardian, which is the result of the developers losing the license after Taito was bought out by Square Enix.
Pocky/Sayo-Chan herself appears in many other Taito games. She appears as a boss in the NES port of Rainbow Islands, as the designated Miko for any of the Taito-made Jinsei Game ports,
a whole Pocky & Rocky-themed level set with a Pocky-form Rocky included in Bubble Symphony, as a selectable character in Pop N Pop and Space Invaders '95 and as a DLC character for Elevator Action Deluxe.
Pocky was also an inspiration for various characters in medias, notably Sayo Yuuki from Castle of Shikigami and Reimu Hakurei from Touhou Project. The latter was closer in appearance in the early games of her series created by ZUN, who worked for Taito before becoming indie later (he derived his name from Taito's in-house music team Zuntata) and was a fan of Darius Gaiden.
---
Pocky & Rocky provides examples of:
---