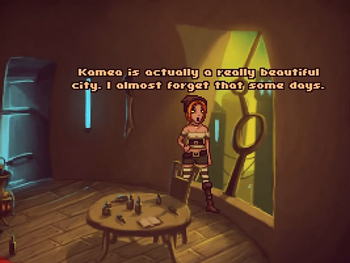 "There's nothing worse than waking up to the same bad dreams as ever, watching the last of your money pour out of you in a yellow stream and remembering the only reason you got to sleep at all last night was the amount you drank beforehand."
Piss is an adventure game created by Ben Chandler as part of a collection briefly available in Summer 2012. The game is available free
, having been shared by Chandler via Dropbox.
Piss follows the story of Moira, a mercenary with a severe drink problem. Haunted by dreams, and desperate to forget and dull the pain of her past, she's aimless and depressed, her only motivation seemingly to gain money to buy more alcohol. But her story becomes far more complex when she finds out that her latest client never intended to pay her, has recently died, and has taken the money he owed her with him to the underworld (on purpose). Moira is furious and determines to attempt to reclaim her money, even if it kills her. On the way more and more of the circumstances that drove her to be the way she is are revealed as she is forced to face her demons and haunted past.
---
Piss contains examples of: