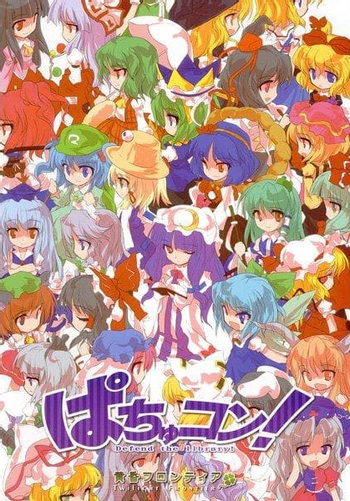 PatchCon! Defend the Library!
is a
Real-Time Strategy
Touhou Project
fan-game by
Twilight Frontier
in which you must fend off waves of increasingly powerful foes while protecting the Scarlet Devil Mansion's library.
The basic story premise of PatchCon! has Patchouli Knowledge being unable to bear any more library raids by Marisa, she needed somebody strong to help defend it instead of the Scarlet Devil Mansion's pathetic maids. Patchouli used a spell to manufacture dolls infused with the hair of certain proprietors that would help protect her library by taking their forms and abilities. However, someone stolen the doll manufacturing process and began making rival dolls to ransack the library of it's books.
At the start of each game, you select a team of five Touhou characters, each with their unique attacks, strengths and weaknesses. The game starts the player off with the Scarlet Devil Mansion residence (Patchouli Knowledge, Remilia and Flandre Scarlet, Sakuya Izayoi, and Hong Meiling), though the number of teams increases as players completes the game multiple times. The objective is to make sure all Patchouli's books doesn't get attacked by the enemies until the clock strikes midnight, but if all 20 books are destroyed, it's Game Over.
A fan-translation patch can be found here
.
---
This game provides examples of:
---