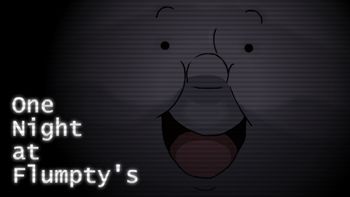 "Welcome one and all to Flumpty Bumpty's
If your light's turned off, then you're safe (Or are you?)
If your lights are on then they'll come find you
And rip you a brand new face"
—
Jingle
on the record player from
One Night at Flumpty's 2
One Night at Flumpty's is a Five Nights at Freddy's fangame series created by Jonochrome. A parody of the FNaF series, it follows the standard format. Only instead of a security guard, you're an unwilling participant (read: kidnapped) of Flumpty's "Hide and Seek Survival Game". The rules are simple: you monitor a surreal playhouse of Flumpty's and keep the others from reaching you until 6 AM. Your kidnapper, Flumpty, is an egg, and he can travel though time and space. He and his friends are all in on the game and if they manage to get to you, game over. So... y'know, the usual.
What sets it apart from most fangames, however, is that it's entirely done in flash animation, and doesn't take itself seriously while still staying true to its inspiration, playing akin to a very mind screwy horror comedy with tons of Easter Eggs thrown in. Also, since it's only set around one night, it plays much faster as well, leaving you more likely to be caught off guard.
The first game was released on January 28th, 2015, and a second one, titled One Night at Flumpty's 2, was released on April 11th, 2015. Both were removed for a while, but are now back as of February 8th, 2016. A third game, titled One Week At Flumpty's, was under development, but was later cancelled... at least by the original creator. Some fans have taken it upon themselves to finish the game (see the trivia tab for more details).
However, in August of 2020, Scott Cawthon announced the "Fazbear Fanverse Initiative", in which he would officially fund various fangame creators and allow them to create merchandise and console ports of their games; as part of this initiative, Jonochrome was officially confirmed to be back in the saddle for One Night at Flumpty's 3, five years later.
One Night at Flumpty's 3 was released as a Halloween special on October 31st, 2021. A console port consisting of it and remasters of the previous two games, titled The Egg Collection, was made alongside it published shortly afterwards.
---
The One Night at Flumpty's series provides examples of:
open/close all folders
#-E
F-Z
---