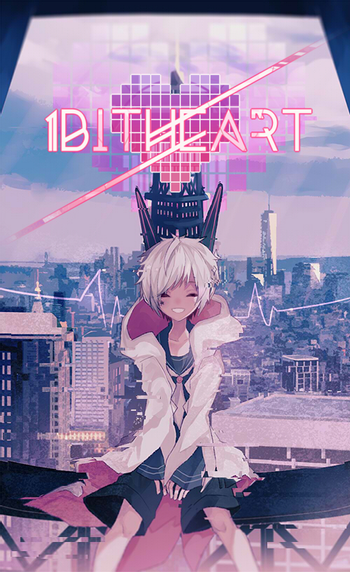 Misane: Can we maybe...do something about you willingly calling yourself garbage, Nanashi?
Nanashi: Should we? That's what everyone says I am! People at school told me not to come anymore, which is why I became a shut-in.
Misane: ...I've decided an objective. Let's put my memories on hold and make some friends for you, Nanashi.
1BitHeart is a freeware RPG adventure game created by Miwashiba. Taking place in a world 20 Minutes into the Future, it centers around a young boy named Nanashi who keeps himself shut inside his home. One day he enters his room to find a girl asleep on his bed who claims to remember nothing outside of her own name, Misane. With Nanashi hoping to return her memories and Misane hoping that he will make some friends, the two venture out into the world and meet a wide variety of interesting people. While out, they become entangled in a mystery involving hackers who seek to cause havoc among the populace by "possessing" people via their technologically integrated devices called Bit Phones. It is up to them to stop the enigmatic Hacker Boss from hacking the Master Program.
Gameplay is focused on making as many friends as possible while also interrogating certain suspects to solve mysteries. You can download an English translation of the game here.
It is also available on Steam
.
Not to be confused with the "spinoff" sequel, 1BeatHeart.
---
1bitHeart contains examples of:
---