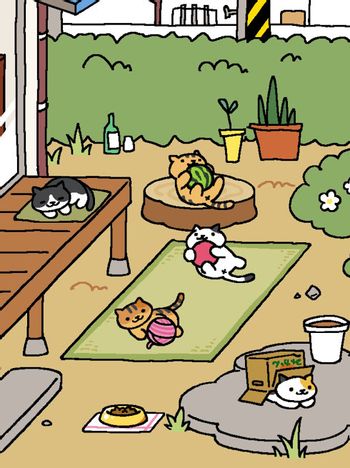 Meow Loading...
Neko Atsume (ねこあつめ) or Neko Atsume: Kitty Collector is an Idle Game for Android and iOS, developed by Hit-Point.
The game consists of laying out food and toys in order to bring cats to the player's yard. However, cats don't show up when the game is in play; they only visit whenever the app is closed. If the player opens the app again while cats are present, they can watch the visiting cats play with the various laid-out toys and take photos of them. Once a cat leaves, it will leave a gift of fish, the game's currency. Fish come in two flavors: standard grey fish and special "gold fish", the latter of which can also be bought with microtransactions. The fish can then be used to purchase other toys and food, some specific items being necessary to attract "rare" cats.
The game was released internationally on October 20, 2014, but was only available in Japanese until an English-language version of the game was released on October 30, 2015.
The success of the game has led to a large variety of official merchandise
, a companion webcomic
, as well as official stickers/stamps
for use with the LINE messenger app. There is also a live-action movie
, Neko Atsume no Ie, released in April 2017. A virtual reality spinoff for the PlayStation 4, Neko Atsume VR, was released on May 31st, 2018 in Japan.
---
Neko Atsume contains examples of the following:
The movie adaptation provides examples of:
---
Your daily password is: Tropes
---