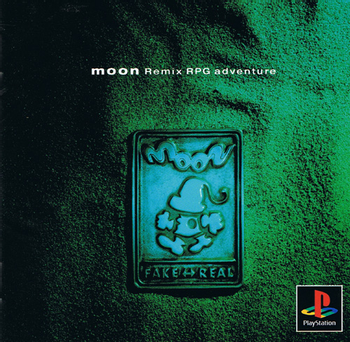 "Hey! Stop playing that game, and go to bed!"
— The Boy's mother
Moon: Remix RPG Adventure is an "anti-RPG" Adventure Game created by Love-de-Lic for PlayStation in 1997. It is notable for being one of the earliest games to spoof and deconstruct the genre conventions of JRPGs, especially of the 16-bit Era, and even plays around with elements of Postmodernism, making it an almost, but not quite Parody Video Game.
It follows the story of a boy playing an RPG named "Fake Moon", a game that follows the "Hero's" journey to bring back the moonlight stolen by an evil dragon. Right at the Final Boss, his mother tells him to go to bed and turn off the game. Just then, the game turns back on, and the boy finds himself sucked into the game's world, Love-De-Gard, albeit now invisible. Here, he discovers what NPCs actually think of the "Hero" and the various mechanics seen in many, many classic RPGs. In a dream, the "Invisible Boy" is then given a mission by Queen Aphrodite to gather love by helping NPCs and restoring monsters by catching their souls to restore balance that the "Hero" has upset.
Very few Westerners had played it upon release due to it being Japanese-language only for 23 years. The indie developer Toby Fox cites it as an inspiration for Undertale, and it gained spiritual successors in Chulip, Endonesia, GiFTPiA and Chibi-Robo!.
During the September 4th, 2019 episode of Nintendo Direct, it was announced that Moon: Remix RPG Adventure would be re-released by indie studio Onion Games (comprised of the game's original staff) as moon for the Nintendo Switch on October 10th, 2019. An official localization of the Switch version, translated by Tim Rogers, was published in Western territories on August 27, 2020, with further ports for PC and PlayStation 4 released on December 16, 2021.
Had a Weird Crossover with Dandy Dungeon.
---
This game contains the following tropes:
---