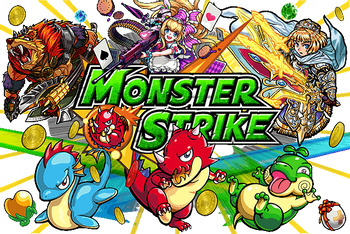 Monster Strike
(shortened in Japanese to
MonSt
and
MonSuto
), is a monster-catching mobile game developed by XFLAG
note
for both iOS and Android. About a year after its Japanese release in September 2013, localizations have become available for North America, South Korea, and Taiwan.
Unlike rival Puzzle & Dragons, the gameplay of Monster Strike is more of a physics puzzle in the vein of marbles or air hockey; you assemble a team of monsters who are deployed into a rectangular field as little marbles. On each of their turns, you drag on the screen to pull back and flick them, making them bounce around and attack stationary enemies by colliding with them. You can bounce your monsters into each other for them to use special Bump Combo attacks, and after enough turns their active Strike Shot skills can be used, which is announced by the game with actual voice acting.
The other mechanics of the game are largely similar to other mobile monster-catching titles. You fuse units to make them level up, acquiring monsters in battle is up to chance, there's a freemium currency used for getting rare monsters among other things, playing levels requires stamina which regenerates over time, and you normally use only three of your monsters because the fourth slot is for another player's lead monster.
Unique to Monster Strike is the ability for multiplayer, allowing up to 4 people to work together on a single level. Some quests are multiplayer-only, and going multiplayer increases the possibility that rare monsters will drop from harder quests.
A handful of other properties and games based on Monster Strike were also released.
Monster Strike: Multi Burst is an arcade game that features a saving system and real-time tag team play.
Monster Strike: Real Disk Battle is a Collectible Card Game (sorta?, you get cards but they've been perforated so you can punch the disk with the monster out) that features the Monster Strike monsters.
MonSt Stadium is a companion app that allows players to test teams up against each other, racing through a quest level to see who finishes first, and it has multiplayer support up to 4-on-4 matches.
Monster Strike for the Nintendo 3DS was released on December 17, 2015.
Monster Strike: Card Game, an actual Collectible Card Game for up to four players who take turns damaging a Quest monster at the middle of the field, with the winner determined by their prize cards' total Luck Value. Or something like that.
Following a commercial
with VFX by Tippett Studio; a Monster Strike YouTube anime series by Studio Hibari also released on October 10, 2015. Here's the trailer.
A movie, done by Liden Films, would be released on December 10, 2016. This was followed in 2017 and 2018 by two sequel series done with CGI - One by Sanzigen Animation Studio serving as a continuation of sorts; and an anthology series by several companies, including Anima, ICLA, Dynamo Pictures, CGCG Inc and Studio GOONEYS. A spin-off special also animated by Sanzigen entitled Sorcery in the Big City would be released in 2017.
A character sheet for the anime is under construction.
Monster Strike contains examples of the following: