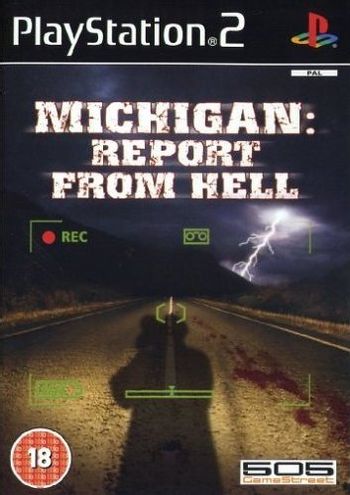 Michigan: Report from Hell is a 2004 Survival Horror video game developed by Grasshopper Manufacture for the PlayStation 2. The player controls a cameraman of the Zaka TV news crew who are investigating the strange goings on in Chicagonote Yes, we know, Chicago isn't in Michigan. The name refers to Lake Michigan, where much of the game takes place. after it's covered by a mysterious fog along with sound engineer Jean-Philippe Brisco and one of six reporters.
The game is played from the first person perspective as the cameraman, rather than take actions himself, highlights objects for the reporter to interact with, or enemies for her to shoot. If the reporter is killed, the game will skip to the next level where you meet with a new reporter.
---
This series provides examples of:
Action Girl: All of the reporters are armed and will shoot at any monsters the team come across. Nina actually brags about killing a bear at one point

and sacrifices herself to save the cameraman and Brisco.

All for Nothing:

In every ending but High Immoral, the cameraman gets assassinated right before he can reveal those behind the virus. And the tapes reveal that ZaKa were executing any reporters who discovered their involvement in the outbreak.
---