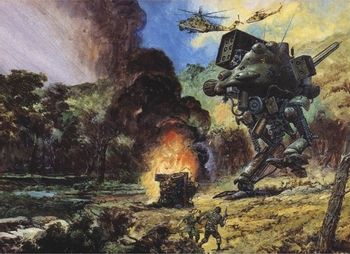 "...Metal... Gear?"
— Solid Snake, beginning a grand tradition.
Metal Gear 2: Solid Snake is the official sequel to the original Metal Gear. It was released for the MSX2 home computer in 1990 exclusively in Japan. Following the huge overseas success of the Nintendo Entertainment System version of Metal Gear,note It had sold 1 million copies in the U.S. alone. Konami commissioned the development of a sequel titled Snake's Revenge for the Western markets without the involvement of Hideo Kojima. After learning that a sequel without his input or consent was in development from another employee who was working on Snake's Revenge, Kojima immediately began working on his own authorized sequel, resulting in one of the most critically acclaimed 8-bit games of all time.
With the world facing an energy crisis after the world's oil supply unexpectedly runs dry, Dr. Kio Marv, a Czech biologist, develops a microbe called OILIX, capable of synthesizing petroleum. Hoping to use OILIX to ensure their military dominance, a small nuclear-armed nation called Zanzibar Land kidnaps Marv during a trip to the United States to discuss his findings. On Christmas Eve 1999, FOXHOUND agent Solid Snake is sent in to defuse this threat and rescue Marv from the clutches of Zanzibar Land. But Zanzibar Land has an ace up their sleeves: a new model of Metal Gear...
Despite being released only three years later, Metal Gear 2 features a much more elaborate game design than its predecessor with a completely redesigned engine. Many elements that would become mainstay in the Metal Gear series were actually introduced here such as the radar, the ability to crawl, the use of noise to attract enemies and peripheral vision for the guards. The narrative was also much more complex than the first game, with many more cutscenes and radio conversations than in the original game. Kojima would later use Metal Gear 2 to lay the groundwork for Metal Gear Solid.
Released during the twilight days of the MSX2, Metal Gear 2 was Konami's final MSX release and its low print run ensured that it would become one of the most sought-after games by MSX collectors. A fan-translated version
was completed in 1998 by the hobbyist group G&T Soft
, along with an online version of the user's manual
(which includes not only playing instructions, but extensive information on the game's story and setting), just in time for the release of Metal Gear Solid. Konami themselves would later release Metal Gear 2 officially outside of Japan alongside the first MSX2 game in updated versions that were included in Metal Gear Solid 3: Subsistence and later in the HD, Legacy and Master Collections.
---
This game provides examples of the following tropes:
---