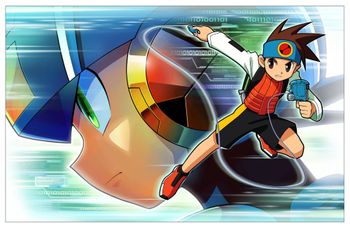 Mega Man Battle Network 3
is an
Action RPG
created by
Capcom
for the
Game Boy Advance
in 2003, and the third installment in the
Mega Man Battle Network
series. The game was originally released as a single version in Japan, until an
Updated Re-release
was made (called
Black
) that featured different exclusive chips, bosses, and some bugfixes. The original and
Black
were both localized as
White and Blue
, respectively, for international releases.
Sometime after the events of Battle Network 2 and fall of Gospel, Dr. Wily has returned and reformed WWW. He seeks to release Alpha, a prototype version of the internet that was locked away due to being incredibly unstable, but can be unleashed once again with the four TetraCodes. Meanwhile, a tournament known as the N1 Grand Prix is being held, with Lan and MegaMan.EXE invited to participate. The tournament seems to be connected to Wily's plans, however, and another powerful threat lurks in the shadows of the internet...
Battle Network 3 uses the same base combat mechanics for as its two predecessors without any new gimmicks or powerups, just refinements to the systems. The main new additions are the inclusion of Battle Chip types and the Navi Customizer. Chips are now divided into three categories: Standard, Mega, and Giga. Mega and Giga Chips are more powerful than Standard ones, but you are only permitted to have 5 Mega Chips and 1 sole Giga Chip in your Folder. The Navi Customizer, meanwhile, is a Grid Inventory that allows for giving MegaMan new passive abilities, powering up his stats, or even increasing the number of allotted Mega and Giga Chips, but misusing it will cause potentially devastating bugs in his programming or disable the abilities.
---
This game provides examples of:
---