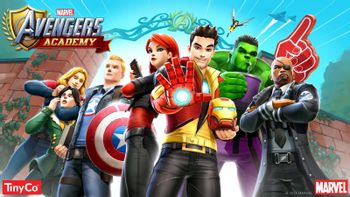 Marvel Avengers Academy was a free-to-play mobile game by TinyCo, the developers of Family Guy: The Quest for Stuff. The game ran from February 2016 to February 2019.
In response to rising terrorist actions by Hydra and AIM, Nick Fury has established a new training program where the most promising young heroes can band together, form bonds with one another, and hone their skills.
...Of course, this is Fury we're talking about. He never does anything without an ulterior motive. So why has he brought the heroes together like this? And what's with the strange "timefog" mist that covers most of the campus?
Not to be confused with the Marvel Comic of the same name.
---
Avengers Academy provides examples of:
---