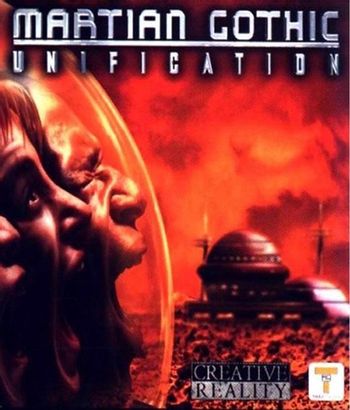 Martian Gothic: Unification is a 2000 Survival Horror game. The original Windows 95 version was the last game developed by Creative Reality. A PlayStation port was released by Take-Two Interactive the following year.
A Martian base called Vita 1 has gone silent, with its last contact with Earth consisting of a single message: "Stay alone. Stay alive." The player takes the role of three investigators: Kenzo Uji, a "techno-zen hippy" and man-machine interface specialist; Martin Karne, a security expert and former soldier; and Diane Matlock, a microbiologist. Shortly after their arrival on Mars, the three characters are split up, and investigating the base requires you to switch between them.
When the team arrives, they find the base is filled with corpses, many of which are frozen solid despite the base being maintained at a comfortable temperature. By searching for logs, notes, and voice recorders, the team slowly pieces together what happened in Vita 1, which is a slow-burning story of corporate greed, alien technologies, and an ancient artifact.
The game was made with a very small team on a very tight schedule, and the final version reflects this.
---
Martian Gothic provides examples of:
---