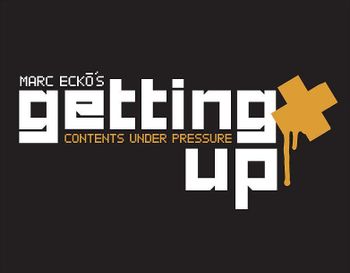 "I just wanted to get up, get my name up, write graffiti."
— Coltrane 'Trane' Crowley
Marc Eckō's Getting Up: Contents Under Pressure is a 2006 video game for the PlayStation 2, Xbox, and PC, developed by The Collective and published by Atari in collaboration with fashion designer and entrepeneur Marc Eckō. It centres on an up-and-coming young graffiti artist named Coltrane "Trane" Crowley (voiced by Talib Kweli), who is determined to make a name for himself in the fictional dystopic city of New Radius, while leading his graffiti crew, the Still Free Crew (SFC), in a street war against their rivals the Vandals of New Radius (VaNR), led by Gabe (MC Serch). However, in the midst of his efforts, he uncovers evidence of a conspiracy involving Trane's dead father and the mayor of New Radius, Mayor Miguel Sung (George Hamilton), and decides to use graffiti in an effort to expose the government's corruption. In the process he must outfight and outsmart the violent and virulently anti-graffiti New Radius police force, the Civil Conduct Keepers (CCK).
The gameplay is a blend of Jet Set Radio-esque graffiti mini-games (there are numerous different styles of graffiti, each with their own corresponding techniques and mechanics to master), Prince of Persia-style realistic platforming, combo-based brawling and occasional stealth sequences.
In addition to the game itself, a cut-down version was also released for mobile phones, developed by Glu Mobile.
In 2013, the game was made available for download on Steam, courtesy of Devolver Digital.
---
Contains the following tropes:
---
The legendary street artist known as 'Trane' was behind last night's graffiti blitz, and in the end is, in fact... Still Free.