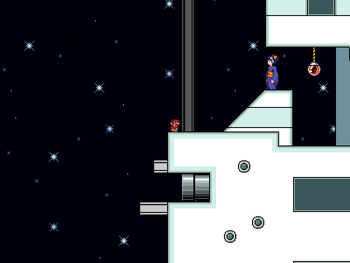 The Make a Good Level Contest X, or MaGLX for short, is a Talkhaus level contest that is played by raocow. The contest is made through the Super Mario Bros. X engine and has had two installments in the series, with a third currently in development.
The main gimmick of the contest is that instead of just submitting any old level, five madlib level names are randomly generated and given to the participant for use. Both contests have had levels that ignored the gimmick, but using your level names is a major part of your score. The second contest also changed it up by also restricting you to two random characters. The second contest also added a secondary contest, MaFAB (Make a Fun Awesome Boss), which gave you a full hand of Magic: The Gathering cards to work with.
The first contest, with 134 entries, ran in March 2014 and lasted for two months. The second one, with 272 levels and 31 bosses submitted, started in July 2015 and lasted for nearly half a year. The second one is notable for being the first major episode to feature LunaLua, a system that allows users to write code for virtually anything that can be run in SMBX levels. The second contest also had to be split into two different episodes due to its massive size, and the two episodes are linked with LunaLua. Due to its Talkhaus origins, the game also features elements from A Super Mario Thing as well.
You can watch raocow's LP of MaGLX1 here
, and his LP of MaGLX2 here
. MaGLX1 note the original version, not the improved hub version is available for download here
.
---
Both games contain examples of:
---
"Make a Good Level X" contains examples of:
---
"Make a Good Level X 2" contains examples of: