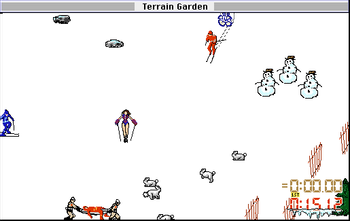 The second-most popular video game series from Macintosh developer Storm Impact, who are better known for TaskMaker. A straightforward skiing sim, it comes with several pre-loaded courses and the ability to make new ones. Like TaskMaker, it was originally made by another company and Re Tooled by Storm Impact into a better game.
Using the mouse or keyboard, the player controls a skier through timer courses (just try to get the best time), slalom, downhill, and more exotic courses that require skiing under Stonehenge pieces, or even striking down penguins or snowmen. Settings include weather conditions and ski type.
Not to be confused with SkiFree, another Obstacle Ski Course game made around the same time.
---
Tropes present:
---