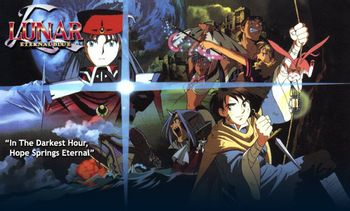 The second installment in the Game Arts-developed Lunar series of console role-playing games - not remade as much as the first but still existing in multiple versions. The titles are:
Lunar 2 takes place a thousand years after Lunar 1, and centers on a teenaged treasure hunter named Hiro, who is fascinated by the Lunar world's epic past (in short, the events of Lunar 1). While exploring a ruin he meets Lucia, a Mysterious Waif with vast magical powers who immediately announces that the world is "in grave danger." As if to prove her point, the dark god Zophar shows up and puts a curse on Lucia, depowering her. In response, Hiro takes it upon himself to help Lucia carry out her mission to meet with the Goddess Althena, who can set the world to rights. The trouble is that Althena's far-reaching religious organization thinks that Lucia herself is the threat to the world, and attempts to stop them at every turn.
Yes, it's a Corrupt Church plot... that well-worn trope which drives the storyline of many a late 90s Eastern RPG. But when Lunar 2 debuted in 1995, the corrupt church plot was new to video gaming - in fact, Lunar 2 may have even been the pioneer. Be that as it may, the fact that the game held up well enough for a remake is testament to Lunar 2's other strengths - the fun characters, the entertaining, humor-laden writing, and the fantastic soundtrack. The remake, released in the twilight of the PS1 era, is notable for being the only remake of Lunar 2 and having a lot more in common with its Sega CD original than its counterpart, Lunar: Silver Star Story Complete, does.
---
Lunar 2 provides examples of:
---