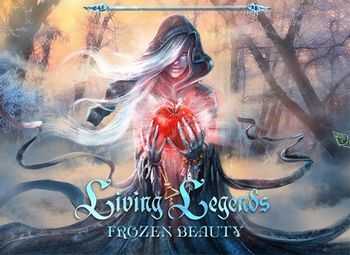 The Living Legends are series of
hidden object games
based on fairy tales with much
Darker and Edgier
twists developed by 4 Friends Games.
---
open/close all folders
Shared Tropes
Living Legends: Ice Rose
Freudian Excuse: The real reason of that the Ice Queen tries to turn the world into eternal winter

is because she wants to bring back her parents from death.

Harmless Freezing: Averted. Being frozen for long period of time killed the victims.
No Name Given: Averted for the Ice Queen who is given a name (

Angelique de Leroy

) here. Played straight with the Alchemist.
Living Legends: Frozen Beauty
Living Legends: Wrath of the Beast
Living Legends: Bound by Wishes
Living Legends: Beasts of Bremen
Girl in the Tower: Rapunzel, but it was against her will because

the townsfolk believed her to be a witch due to the dark fog emanating from her

.
Revenge: Rapunzel uses the fog and the artifacts to get her revenge on the town of Bremen for her imprisonment.
Living Legends: Uninvited Guests
Living Legends: Fallen Sky
Living Legends: The Crystal Tear
Evil Me Scares Me: Past Cinderella is horrified at what her future self had become and what length she'd do to get revenge.
The Girl Who Fits This Slipper: It's a tradition in the kingdom to test bridal candidates via fitting into the crystal slippers.
Wicked Stepmother: Taken Up to Eleven when

she not only tricked the prince into accepting her daughter as his bride, but she later poisoned the prince

.