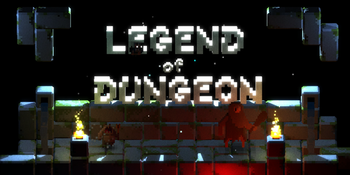 Legend of Dungeon
is a retro-styled roguelike dungeon crawler, styled as an "
Action RPG
Beat 'em Up
" by its creator Robot Loves Kitty. It was released in September 2013 on
Steam
.
Legend has it that there is a treasure on the 26th floor of the dungeon. Go get it. That's pretty much it for the plot, not that it needs one. The game consists of traversing the dungeon, gathering equipment, potions and experience to help fight off the many, many monsters that await you in the depths. Other random encounters, traps and hazards also await anyone foolhardy enough to quest for the treasure.
The game has a rather quirky sense of humor and it's not unusual to find yourself murdering a unicorn with a tommygun while wearing a pirate hat and under attack from a legion of mummies and zombies.
This game provides examples of:
---