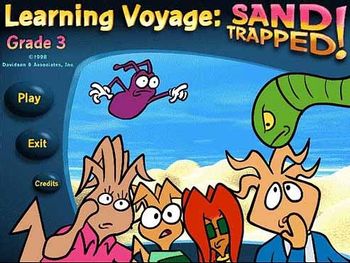 Learning Voyage was a short-lived series of edutainment games developed by Learningways, Inc., and published by their parent company, Davidson & Associates, in 1998. There were two games in the series. Learning Voyage: Sand Trapped! was for grade 3, and Learning Voyage: Swamped! was for grade 4. They were also released as Davidson's Learning Center Series: 3rd Grade and Davidson's Learning Center Series: 4th Grade, respectively. Both games included games in both math and reading; for example, a clown-dunking game where you would have to say whether a statement is an opinion or a fact, and a robot-building game where you build the robots by solving math problems.
The games feature a family of aliens known as the "Discovercraft Crew" who run a floating museum called the Discovercraft. In each game you are trying to fix problems in the engine room. To get to the engine room, you need to earn game tokens. To earn game tokens, you need to master skills. To master the skills, you need to play the games. Once you've earned enough game tokens, you can enter the engine room and save the day.
The games also feature "exploration" activities. Sand Trapped! features a bat cave, and Swamped! features a "gravity simulator".
A video of Sand Trapped! can be found here
.
Do not confuse with the Blaster Series. They're similar in a few ways, and a few ways only.
---
The games provide examples of:
---