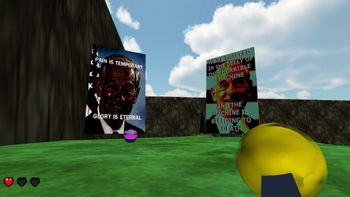 "i am dog worf worf"
Describe Le Fantabulous Game here.
Oh, who are we kidding? It's humanly impossible.
Le Fantabulous Game
is a three-dimensional platformer made by a person who refers to themself as Fantabulouso, made to parody "egglike" games that were created after The Fantastic Game was played by Vinesauce. It's also really bizarre, but competently made. A person called Capboy is collecting sausages for no reason other than feeding them to his friendwoman and fighting an army of evil green spheres referred to as the Shamrocks by throwing a smaller yellow sphere at them.
The closest games that Le Fantabulous Game can be compared to is Super Mario 64 and Donkey Kong 64, in that the game is about exploring and collecting every little sausage you can find.
The game has currently been abandoned in favor of a new version called The Fantablous Game, which Fantabuloso has been uploading development logs on and he is now planning to begin a Kickstarter for making the game. It has since evolved into an honest attempt at a good game called Fantaria: The Quest for Sausage.
---
here are many tropings, they are not antigood shamrock propaganda:
---