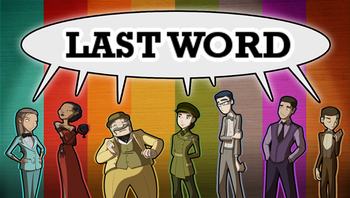 Last Word is a PC game developed in RPG Maker by Merlandese. It is set in the fictional nation of St. Lauden, where the photographer Whitty Gawship had been invited to the dinner party at the house of Chet Chatters, a renowned linguistics professor who wishes to demonstrate his new invention to his guests. Once they arrive, however, it soon turns out that they're intended as audience for the powers of the Mouth, the professor's device supposedly capable of winning any conversation in history. Professor Chatters also doesn't intend for them to leave until he's satisfied with its performance, and it's up to Whitty to persuade him otherwise, which involves getting to the bottom of many mysteries of the estate and its guests.
Last Word was originally created in 30 days for the 2014 IGMC contest, and can be freely downloaded on RPGMaker.net
. A full, commercial version of the game had also been released
on Steam on May 8th 2015.
Last Word provides examples of the following tropes:
General Sandhoff: "To leave your patriotic duty in the name of love and dreams is a military sin. I can't respect it."
---