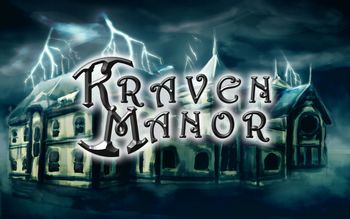 "
Turn out the lights, take a deep breath, and prepare yourself. Explore the depths of the immersive, atmospheric world of Kraven Manor. Uncover its secrets, solve its mystical puzzles, and face its growing threat. Face your fears and see if you have what it takes...the doors of Kraven Manor await you.
"
— Steam description
Kraven Manor is a first-person Survival Horror game, developed by Demon Wagon Studios and released on PC in 2013. The central concept of the game lies in a scale model of the titular manor. As the player explores, new parts are located and can be added, causing rooms to appear in the 'real' manor.
This horror gaming experience invites players to turn out the lights and enter an immersive, atmospheric world. Kraven Manor challenges the player to explore an expansive manor where the player has the power to dynamically alter the game's layout by interacting with a miniature scale model of the manor. The player explores the manor to find miniature models of rooms and carry them back to an increasingly elaborate puzzle. Wherever the player adds a model onto the scale model, the associated room moves and appears in real space. With each new room comes a new revelation of the troubling past of William Kraven and the growing threat of an evil presence that relentlessly follows you to the end of your journey.
During its six month development, Kraven Manor was originally designed with more focus on randomized, dynamic gameplay. The team's greatest struggle and success came when redesigning the game's focus after a weak Vertical Slice milestone, making the game more linear and developing the mantra, "Keep it Scary." When the redesigned Kraven Manor was publicly beta tested online, the game received a response from the indie gaming community that exceeded the team's wildest expectations.
The game is free to play on Steam
.
---
Tropes featured:
---