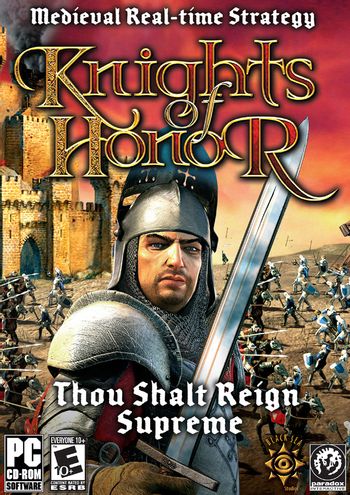 Knights of Honor
is a 2004 medieval strategy game allowing you to build cities, burn and loot towns, earn gold or goods, spy on other nations, make and break alliances, fight crusades, slaughter rebels and destroy history! It was developed by Black Sea Studios.
In the singleplayer campaign, the player can choose from nations across 3 different bookmarks, each roughly corresponding to a period in medieval history.
There are three main religions which the nations are part of, and to which they can convert: Roman Catholics, Orthodox Christians and Muslims. note While Pagans are also present, few nations start as Pagans, and they cannot gather piety; Pagan kingdoms may convert to either of the 3 "main" religions, but no kingdom may convert to Paganism. Byzantines and Nicaea (in the High Middle Ages bookmark) cannot convert to another religion. Each have some bonuses (Roman Catholics get an income boost, Muslims can jihad and their troops have higher morale) and negative effects (Roman Catholics have to send armies to fight in crusades when they are powerful or risk excommunication by the Pope; Orthodox Christians without independent Patriarchs have to pay tribute (gold) to the Byzantines and their troops have lower morale).
A sequel was rumored for years to exist, but remained vaporware until August 2019, when Knights Of Honor II Sovereign was officially announced
for a 2020 release.
---
This game provides examples of: