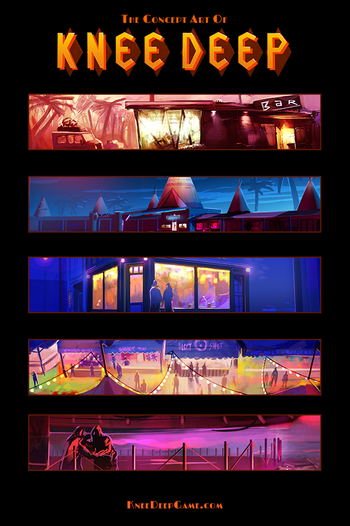 Knee Deep
is a "swamp noir" murder mystery by
Prologue Games
set in modern-day Florida, in a rundown tourist trap town called Cypress Knee. It's presented as a stage play inside a computer game. Players take on the roles of three main protagonists - a young blogger, a private investigator, and a down-on-his-luck print newspaper reporter - following up on the apparent suicide of a Hollywood has-been at Chief Roadside's Wonderland.
Noir character tropes associated with Knee Deep:
Noir setting tropes found in Knee Deep:
Abandoned Warehouse: The Church of Us basement in downtown Cypress Knee in Act 2 fits this bill.
Sunshine Noir: The action in Act 1 all takes place in the neon wreckage of a forgotten tourist trap called Chief Roadside's Wonderland. In Act 2, the story transitions to a quaint little Florida downtown with a dark secret.
Theatrical tropes found in Knee Deep:
Audience Monologue: From time to time, the main characters break the fourth wall for monologues. Sometimes, these are personal musings. At other times, it's safe to assume they're making comments to interrogators.
Crowd Song: In Act 2's opening scene, and in a few other spots, we see examples of this.
Greek Chorus: Toward the end of Act 1 and in several points in later acts, we see secondary and tertiary characters commenting on the actions of the main characters.
---