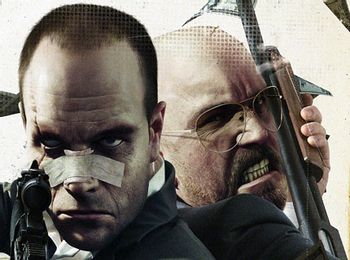 A mercenary, a psychopath and a bunch of cash. What could go wrong?
Kane & Lynch: Dead Men is a third-person cover-based shooter with squad-based gameplay inspired by IO Interactive's previous such game, Freedom Fighters (2003). The plot follows the titular characters through a story of escape, betrayal, and redemption. The game opens with Adam "Kane" Marcus being transported to jail. His prison bus is then assaulted by a very well-organized group of men, and one of the prisoners being transported with him shoots his cuffs off and threatens to kill him if he doesn't follow. You see, Kane was one of The 7, a group of mercenaries - until he ditched them with the money, during a mission that went bad.
Now they have his family. He's a dead man, but they'll let the family go if he gets the money back for them. To keep tabs on him and make sure he follows through, The 7 pair him up with James Seth Lynch, a fellow death row inmate who helped with the breakout.
Of course, things quickly go south when Kane is unable to find all of the money and Lynch turns out to be a paranoid schizophrenic prone to black outs and fits of psychotic rage. It doesn't take long before everything goes to hell.
Its sequel, Kane & Lynch: Dog Days, was released in late August 2010, and ditches the original game's squad-based mechanics in favor of a greater focus on 2-player co-op gameplay. After a Time Skip of 3 years, the plot focuses on the pair reuniting in Shanghai, China to oversee a black market arms deal. What initially seems to be an amiable if tepid rendezvous between the pair quickly escalates into a mounting crisis that threatens to either destroy them or the city itself. And we all know which one they will choose...
The games have received polarized reviews, with criticism towards the gameplay, but praise for their harsh, brutal tone and uncompromising, genuinely bleak atmosphere.
---
Kane & Lynch provide examples of:
open/close all folders
Both Games
Dead Men
Dog Days
---