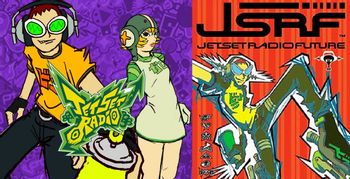 Jet Set Radio (originally known as Jet Grind Radio in the NTSC U/C region) is a platforming/skating game released by Sega for the Sega Dreamcast in 2000, developed by Smilebit, who were made up of previous AM-6 employees, responsible for the Panzer Dragoon series. The game is centered around roller-blading street gangs consisting of teens and young adults called rudies, who battle for turf by spraying graffiti around the streets of Tokyo-to. Meanwhile, the rudies' culture is under attack by an evil corporate conglomerate called the Rokkaku Group which seeks to homogenize the city and whose leader seeks to take over the world through demonic means.
The game is also known for pioneering the use of Cel Shading to create cartoonish characters and backgrounds using 3D polygon graphics, and its use in this game popularized the style in interactive media as a whole. Additionally, the game is also remembered for its eclectic soundtrack.
In 2002, a sequel was released for the Xbox called Jet Set Radio Future. Set rather ambiguously to the first game, Future is more of a "remix". The story is much the same, with some new twists and new elements, though the characters of the game are very different, and the city of Tokyo-to has seen a very drastic overhaul. The game was made to play much faster, replacing the joystick graffiti spraying with a simple 'hold the button and run' system, as well as making grinding a much more important skill (as well as making it easier to do).
Despite heavy promotion from Sega, neither game sold that well. JSRF was bundled with new Xbox consoles along with Sega GT 2002. While both games received critical acclaim and are fondly remembered, sales weren't enhanced as much as one would hope — people would often buy the console bundle, but return the game to buy a copy of the original Halo: Combat Evolved, thus copies of the combo disc are plentiful on the secondary market.
Despite everything, the series was very well received, even to this day, with Jet Set Radio considered to be one of the Dreamcast's defining games, and Jet Set Radio Future being considered one of the Xbox's best exclusives. The games have gotten plenty of love from the Sega Superstars crossover games, especially All-Stars Racing, which features nothing but Future representation. The game was also featured in Hi-sCoool! SeHa Girls in late 2014.
The original Jet Set Radio was re-released in full HD on Xbox Live Arcade, Play Station Network, and PC in September 2012, netting the series a boost in popularity. It was also released on iOS and Android, but these versions have since been removed due to a percieved low quality from SEGA.
Not to be confused with Jet Set Willy, a completely unrelated game.
A Spiritual Successor, Bomb Rush Cyberfunk, is being developed by independent studio, Team Reptile (Lethal League), which apes much of JSR's style. The only difference is that game has the characters use other movement options in addition to roller blades, like bikes, skateboards, and even free-running.
See also Air Gear, a manga that was inspired by this series.
---
The Jet Set Radio series contains the following tropes:
---