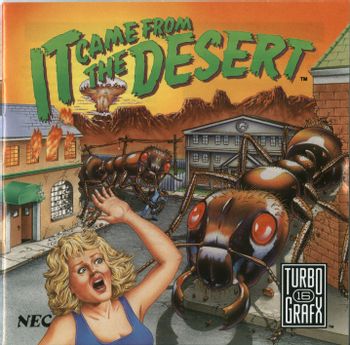 "The desert. Unchanged for millions of years. Yet witness to a biblical prophecy come true that one day, the meek shall inherit the earth."
— Opening narration
It Came From The Desert is an 1989 Amiga game by Cinemaware about a young man discovering the existence of giant ants hell bent on taking over the world. With help from a scientist and some friends, he will need to collect evidence within a time limit to convince the mayor to take action. Gameplay segments include interacting with NPCs, knife fighting with a gang member, shooting an Ant's antenna before getting attacked, fending off said ants, and eventually infiltrating the ants base and blowing up the queen.
While mainly an Amiga game, with a follow up made for the system, it was also released for the IBM Personal Computer. Two remakes were completely different: a Turbo Grafx CD version that relied heavily on Full Motion Video and had little to do with the original game (Retsupurae riffed on it
), and a Sega Genesis version that was an over-head shooter and was canceled by Electronic Arts when almost finished.
In 2017, a low-budget film
was made, changing much of the story. It does play snippets of the original Amiga game during the end credits.
It Came from the Desert includes examples of:
---