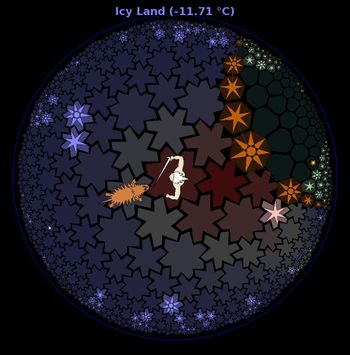 HyperRogue, by Zeno Rogue, is a roguelike game, about an adventurer in a non Euclidean world. Originally released under the name Hyperbolic Rogue in 2011, it was updated to Hyperbolic Rogue II, for the 2012 Seven Day Roguelike competition. Hyperbolic Rogue III was based on that code, and eventually re-named to HyperRogue for the Steam release.
You explore an infinite world with 66 different lands, each with its own enemies, treasures, and power-ups. The goal of the game is to find and unlock one of the Orbs of Yendor, but you're free to ignore the main quest and go for a high score instead.
The game is set on a hyperbolic plane, which has a lot of strange geometric properties. A regular grid of hexagons and heptagons, triangles whose angles add up to less than 180 degrees, straight lines that seem to curve away from you, infinitely large circles. Returning to the same place twice is very unusual. The creator was inspired by M. C. Escher's hyperbolic tilings for some of the graphics.
All enemies can kill you in one hit, but most of them also die in one hit, so combat becomes a series of puzzles, not unlike Deadly Rooms of Death. You can only be killed if a monster backs you into a corner, or if several monsters surround you.
You can buy it on Steam here,
or get the free version here.
The free version is complete, but it's updated less frequently.
---
HyperRogue contains examples of:
---