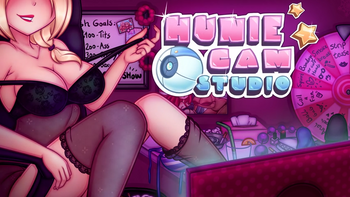 HunieCam Studio is a Western Business Sim in the same way that HuniePop is a Dating Sim. Created by the same developer, Ryan Koons, it casts the player in the role of being a "Camgirl Tycoon" in charge of their own website and employees, with the mission of making as many fans as possible in twenty-one days. A number of those potential employees are characters from the original HuniePop.
Watch the first trailer here.
A second trailer was uploaded upon the game's release, which you can watch here.
The game was released on April 4th, 2016 and is available on Steam and Humble Bundle.
---
The game provides examples of:
---