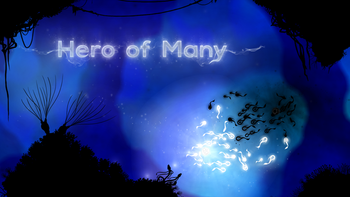 Hero of Many
is a video game originally released for mobile devices in 2013. It was developed by independent video game developer Trickster Arts. It follows a ball-shaped white creature (known as Hero) as he leads white fishes in a war for survival against Black and his army that genocides the white ones.
---
Hero of Many provides examples of:
Alas, Poor Villain: Black fishes became evil only because of Black mass and one of them is controlled for a short time.
Anyone Can Die:

Only Red and Blue make it to the end

.
Art Game: Visuals and soundtrack qualifies the game.
Badass: The Old Friend, Hero and the fish controlled in one level are this.
Big Bad: Black
Bookends: The game ends where it started.
Boss Fight: There are some
Damsel in Distress: Red plays this role several times. Subverted in some other occcasions.
Dark World: Pretty dark and dangerous.
Evil Counterpart: Black is this for Hero.
Final Solution: Black fishes intend to genocide the white ones.

In the end, White fishes annihilate the black ones

.
The Hero Dies:

The game ends when Hero dies after he absorbed the antagonist

.
The High Queen: Red is also called Red Queen.
Heroic Sacrifice:

Hero kills black in the end but it costs him his life

.
Hopeless Boss Fight: The fiirst encounter with Black Captain.
Hopeless War: Subverted by Hero.
The Leader: Hero is this for White fishes while Black is this for Black fishes.
One True Love: Hero and Red are probably this.
The Only One: Hero is the only one who can stand up Black and hs army.
Minimalism: Easy graphics, no dialogues and short length.
The Plague:

Black fishes are actually white fishes that were corrupt by black mass.

Recurring Boss: Black
Sadist: Black fishes
Solo Sequence: Hero gets this multiple times.

Especially in level 24

.
Spikes of Doom: Trap that you can come across.
Tragic Hero: Hero is an example of this. Many of his friends die

and he is even forced to kill his best friend. In the end he dies to achieve his goal

.
Tragic Monster: Practically all black fishes and especially the one that player controls for a short time.
Videogame Caring Potential: Player can start to care for his swarm.
---