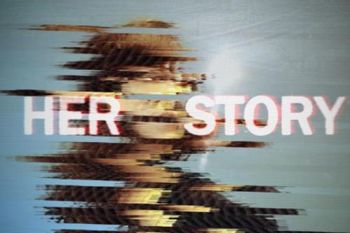 Her Story is a Full Motion Video Interactive Fiction game from Sam Barlow, the creator of Aisle, currently available on Steam and iOS. It was first released in June of 2015.
In the year 1994, a woman (played by Viva Seifert) was called in by the police to give a number of interviews considering a recent disappearance. Your challenge is to piece together the facts of the case despite the limitations of the aged database software you are using.
Each of the interviews is spliced into a number of clips which can be retrieved by searching for words or phrases spoken during the interview. However, the database only returns the first five search results, forcing you to seek out more specific search terms in order to get the results you need. Thus, the player is forced to sift through the disjointed interviews in a non-linear fashion, using their intuition to pick up on key phrases and delving deeper into the mystery.
4 years after its release, the game saw a Spiritual Successor entitled Telling Lies.
Since the main draw of this game is the mystery and the events surrounding it, there are unmarked heavy spoilers below.
---
This game contains examples of:
---