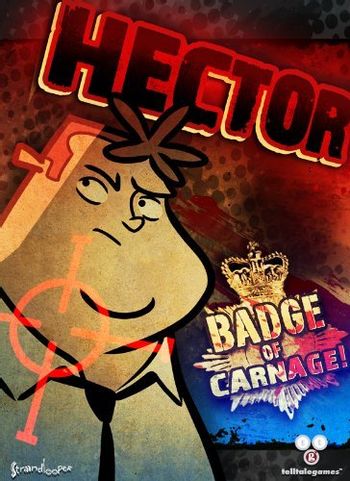 Hector: Badge of Carnage
is a three part adventure game by
Telltale Games
and Straandlooper.
Clapper's Wreake is a small city in the British Midlands. It also happens to be the worst city in the world. Crime, vice, perversion, corruption, and all other kinds of nasty, nasty things. You name it, it has it, and there's one man who's had enough and plans to do something about it.
This man... is not our hero. He is a terrorist that has taken a building full of civilians hostage until he can find someone to clean up the city's reputation. All attempts to negotiate have ended with the negotiator minus a head, and the police blew most of their "We Negotiate With Terrorists" fund on last year's policeman's ball.
Enter our real hero; Hector, an alcoholic, cynical detective inspector, called in to help after all the other negotiators are killed. He's on the case... right after he figures out how to get out of his cell/office...and finds his trousers...and gets his car started.
Anyway, Hector eventually makes it to the scene, and after some back and forth, the terrorist agrees to release the hostages...on the condition that three tasks that the terrorist believes will help the town are completed first. And since he believes that it's mostly the police's fault Clapper's Wreake is such a shithole (and let's face it, he has a point), he wants Hector to do them. So begins Hector's quest to clean up the town, save the hostages and arrest the terrorist so he can go back to bed.
It is worth noting that this is one of Telltale's darker games. The humor is much more adult and Black Comedy centric than their past works, mostly due to the fact that this is the first series not directed by them (Straandlooper is the brains behind Hector, with Telltale publishing and funding it). Despite this, it has received very positive reception.
Episode 1, We Negotiate With Terrorists, was initially released on iOS in June, 2010, and was released on PC and Mac via Steam one year later. Episode 2, Senseless Acts of Justice, was released in late August 2011. The third and final episode, Beyond Reasonable Doom, was released on September 22.
This game contains examples of:
---