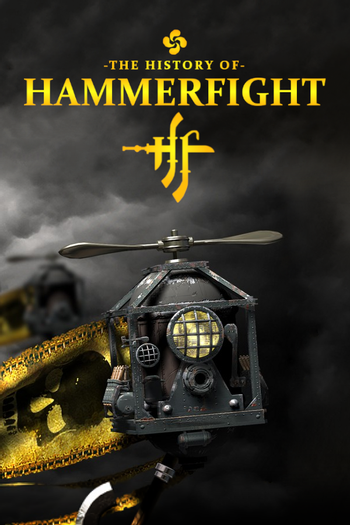 From the earliest times, people had been finding broken machines beneath the vaults of the Abyss.

Machines that, with skillful hands, could be made to fly.

And they discovered that there was no task under the sky in which these machines could not be useful.

So, whether in times of war or of peace, those who could control the machines received the most honor.
A 2009 physics-based action game (previously known as Hammerfall) made by Konstantin Koshutin, Hammerfight is set in the world of Helaat. A young member of the House of Gaiar as he begins his training as a Rider—those who can pilot flying machines, particularly for war. The young Gaiar has many life-changing ordeals ahead of him—starting with The Empire declaring a war of extermination on the his people in order to fulfill an ancient oath by Cyrus Arguseed ...
Just what will this rookie Rider take into battle? A giant rock on a chain—and that's just the starter weapon.
Not related to Hammertime, although it could hurt you just as bad.
In 2015, Konstantin announced a (confirmed
) prequel to Hammerfight—HighFleet, updates to which are available on his YouTube
channel and Twitter
account. Konstantin later expressed interest in making a direct sequel to Hammerfight in the game's Steam discussion
forums.
---
Provides examples of:
---