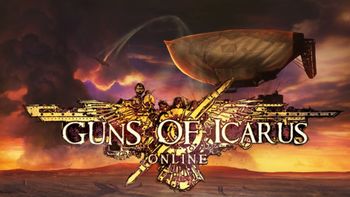 Guns of Icarus Online
is the MMO sequel to
Guns of Icarus
, developed by Muse games. It is a
co-op
shooter
game where teams of airships, each manned by 4 people, attempt to sink the other teams' airships.
Players have access to 3 classes: The Pilot, The Engineer, and The Gunner. The Pilot is in charge of flying the ship, the Engineer is in charge of keeping it in good repair, and the Gunner is in charge of gunning.
The point of the game is to keep your ship flying while dishing out pain to other ships. Six different ship bodies are in game, and come set with loadout points for light and medium guns. Each one requires a different strategy, and it takes a while to master them all.
A kickstarter has been funded for an adventure mode, and though it failed to meet some of the major goals, two expansions are planned, Co-Op, a series of PvE missions in pre-set scenarios against and AI direction, slated for 2014, and Adventure Mode, which will add a permanent overworld, and faction intelligences.
---
Guns of Icarus Online contains examples of: