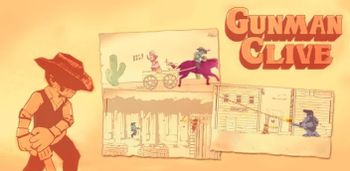 Why am I riding a mine cart on a dinosaur... in a gravity field?!
Created by Bertil Hörberg, Gunman Clive is a 20-stage 2D Platformer starring the titular character, whose goal is to rescue his beloved Ms. Johnson from evil bandits and rustlers. Originally an iPhone/Android title, the game was later ported to the Nintendo 3DS eShop, all versions sold at $2. The gameplay combines classic Super Mario Bros. and Mega Man gameplay.
The Android and 3DS versions gives you the option of playing as Gunman Clive or Ms. Johnson in a Role reversal.
The sequel is available for 3DS and Steam.
An HD Collection featuring both games was released on the Wii U eShop on September 3rd, 2015. It also adds Chieftain Bob to the playable roster on the first game. The collection was ported to the Nintendo Switch on January 17th, 2019, and also released on the PlayStation 4 on May 22, 2020.
---
This game provides examples of:
---