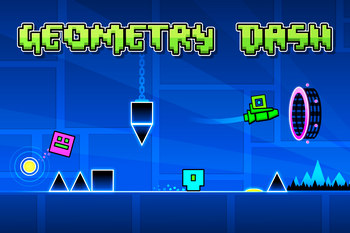 In the wide, weird world of
The Impossible Game
clones, one of them somehow got more popular on
YouTube
than the original, and that's how a community was born.
Geometry Dash came out on iOS on August 13, 2013, and was ported to PC on December 22nd, 2014. In and of itself, it is quite simple. Dodge the spikes. Jump on platforms. Don't hit the walls or the ceilings or, heck, avoid the saw blades as well.
There are several modes of play: the simple Impossible Game-based jumping square, a spaceship that you must fly up and down, a rolling saw blade that can change gravity, a Flappy Bird-like UFO, a "Wave" which can only move diagonally, a Little Stomper-like robot, and a spider that flips between the floor and ceiling. A new picture teasing Update 2.2 showcasing a spherical gamemode with three rockets attached to its back was released on March 8th, 2017.
There is a lite version containing the first few levels. There are also several sequels on mobile platforms, called Geometry Dash Meltdown (2015), Geometry Dash World (2016) and Geometry Dash SubZero (2017).
---
This game provides examples of:
---