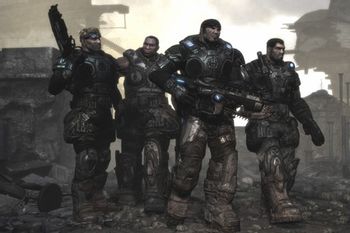 Gears of War (also known as just Gears) is a Third-Person Shooter video game franchise previously developed by Epic Games and currently developed by The Coalition and published by Xbox Game Studios.
By Word of God, gameplay emphasizes tactical maneuvers rather than More Dakka, and is the recent Trope Codifier for Take Cover!-style gameplay, forcing you to shoot carefully and outflank as much as you can (though Regenerating Health makes it a little easier). There isn't a jump button and everything is angled towards making the combat as personal and violent as possible (the main gun used has a chainsaw built into the grip, called the chainsaw bayonet). You can give your squadmates orders, but if one them goes down, you have to pick them up and get them back on their feet. Finally, there is an Active Reload system that buffs your damage output if you hit the right timing window but jams your gun if you mess up.
The general story centers on the soldiers of Delta Squad as they fight to save the human inhabitants of the fictional planet Sera from a relentless subterranean enemy known as the Locust Horde. The Coalition of Ordered Governments (COG) is fighting back with their own soldiers they call "Gears". The Locust are relentless, vicious, can pop out of the ground almost anywhere and seem to be numberless, but the COG have superior technology and the capital city of Jacinto is located on a plateau of solid granite, making it the one place the Locust can't tunnel up.
The player assumes the role of Marcus Fenix, a battle-hardened former war hero. When in cooperative play, the second player takes control of Fenix's best friend and fellow soldier Dominic "Dom" Santiago. Alongside them are fellow soldiers from another squad who they seem to frequently join with: former pro athlete Augustus "Cole Train" Cole and smart-mouthed Damon Baird.
Besides dealing with the humanoid footsoldiers there is a great deal of focus on monstrous creatures you have to face such as the dinosaur-like Brumak (with a cannon on its back and chainguns on each arm), the crab/spider-like Corpser and the "monkey-dog" Wretch. Alongside that, the games are about building atmosphere and drawing you into the moment, investigating abandoned warehouses and exploring a labyrinth of underground tunnels. These are not games to play in the dark.
On the way, they do manly things like blowing stuff up, delivering one-liners and growing beards.
In January 2014, Microsoft officially purchased the rights to the Gears of War franchise from Epic Games, officially becoming an internal, first-party property. They handed the reins of the franchise over to Black Tusk Studios, which would go on to rename themselves The Coalition (a reference to in-game mythology, following the trend of official Halo developer 343 Industries). Their first work on the series was a remastered version of the first game titled Gears of War: Ultimate Edition was released August 2015 for Xbox One and PC (via the Windows 10 Store) March 2016. The first original work from The Coalition was Gears of War 4 and launched worldwide on October 11, 2016.
At E3 2018, The Coalition revealed three new games: Gears Pop, Gears Tactics and Gears 5. The first one is a mobile game where players battle the Locust as the series' characters in Funko Pop! form, the second is a PC release that focuses on epic cover-based battles that the series is known for and the final one is a direct sequel to Gears of War 4. It stars Kait Diaz as the Player Character rather than JD Fenix and focuses on Kait's personal quest to discover her family's connection to the Locust Horde and promised to take the series "back to where it all began". Gears Pop was released on August 22nd, 2019, with Gears 5 releasing on September 10th, 2019, and Gears Tactics on April 28th, 2020.
---
Gears of War
Dominic Santiago: Welcome back to the army, soldier.
Marcus Fenix: Shit.
Released on November 7, 2006, the Locust Horde has been rampaging across the planet for about 14 years. Marcus Fenix was imprisoned for dereliction of duty four years earlier, but was pardoned when the Locust assaulted Jacinto Plateau and invaded the prison. Marcus was reinstated and assigned to Delta Squad alongside Dominic Santiago. His first assignment involves a priority mission to assist another group, Alpha Squad, to deploy a device that would help deliver a final strike against the enemy.
The game was praised for its beautiful visuals and innovative gameplay system. The most common complaints were a dull color palette but most especially an uneven storyline.
The game was remastered for the Xbox One under the title Gears of War: Ultimate Edition, with a graphical overhaul to bring it up visually to the later games in the series, done in the same vein as the work for The Master Chief Collection. The remaster even got a new "Mad World
" trailer.
---
Gears of War 2
Marcus Fenix: This is it, Dom. This is everything we've been fighting for.
Dominic Santiago: Yeah, well Maria is everything I've been fighting for.
Released on November 7, 2008, the Locust re-emerge several months after the events of the first game, except more desperate and far more dangerous, while on the surface, many human refugees and Gears have fallen sick with a disease known as Rustlung, an Imulsion sickness. COG forces return to action in an attempt to make an assault on the enemy's home turf, while Dom embarks on a personal mission to find his missing wife Maria, putting him in conflict with his other responsibilities as a member of Delta Squad.
The second game received similar accolades, with many complaints of the first game addressed. The graphics are better than ever, a larger weapon variety is given and the story is epic while more personal. However, it still holds many slight flaws, but that doesn't reduce the amount of fun there is in playing the game. The multiplayer set-up has also been cheered, with the new "Horde" mode receiving the most attention; while it didn't invent the concept, Gears 2 is the reason most shooters have a wave-based survival mode now.
---
Gears of War 3
Augustus Cole: "Do you ever feel like you're dead, but nobody told you?"
Released on September 20, 2011, the ending of the second game has left both sides decimated, with Marcus and Delta Squad trying to keep their head down as there's no place left on Sera that is safe. Anya Stroud has joined the team as a soldier, Dom has grown a Beard of Sorrow and the approaching summer has the squad wearing lighter versions of their normal armor. The story picks up 18 months later when the COG leadership (what is left of it) approaches Marcus with some new discoveries about the Locust. Unfortunately, the Gears don't just have to contend with the Locust Horde: a new faction, the Lambent Locust, have emerged from the underground and are hostile to both sides.
With the added benefit of a multiplayer beta to iron out the kinks (including dedicated servers), Gears of War 3 ended up the best reviewed of the trilogy with a very bright color palette, crisp visuals and fluid gameplay. A very full game release, it has a very long campaign where you can play with four characters at all times (including a co-op online arcade version), Horde Mode 2.0 (with some Tower Defense-like strategy), Beast Mode (a reversed Horde Mode where you play as Locust creatures attacking the COG), loads of features to track your gaming history and a single leveling system that works under all modes. The game was also built to be heavily modifiable, with a Downloadable Content pack called "RAAM's Shadow" containing an entire mini-campaign.
---
Gears of War: Judgment
Damon Baird: ...To survive out there in the field, you have to know how to adapt. And I'm an adaptable man.
The final Gears of War installment developed by Epic Games, released March 19, 2013. It is a prequel from fifteen years before Gears of War with Baird taking over as the lead protagonist. The game focuses on his time as a lieutenant in Kilo Squad, with Augustus Cole and others under his command. In the tale, taking place early in the Locust War, the squad is accused of treason for stealing COG experimental technology on a mission. The game uses In Medias Res as Baird explains what they were doing and why, and along the way the campaign has various "Declassified" segments that adds a new wrinkle to the gameplay that are optional but provide a replay bonus along with a player competition. The characters are younger and (slightly) less cynical than what they later become, with a focus on the specifics of Baird and Cole's backstory that is only hinted at in the main games.
The reveal trailer can be found here.
Development was being outsourced to Epic's subsidiary studio People Can Fly, the makers of Painkiller and Bulletstorm. The gameplay was shifted up, as while Take Cover! is still vital the speed of the characters is increased significantly and there is a more vertical factor with the maps. Multiplayer received another new mode called "OverRun", a sort of Horde-meets-Beast mode-meets regular multiplayer, where you switch off between player teams of Locust creatures and COG soldiers with an objective goal and uses a class-based system. Horde Mode was technically removed but replaced with a new, related gametype called Survival, which integrates the same class based system as Overrun and introduces vital new objectives to maintain as you hold out for 10 waves.
---
Gears of War 4
Announced at E3 2015 with a release date of October 11, 2016, it is the first original work of the new official Gears developer, The Coalition. The game is set 25 years after Gears 3. The main character is James Dominic "JD" Fenix, the son of Marcus and Anya, who first ran away from home to join the COG against his father's wishes and later went AWOL from the COG after being involved in some kind of Noodle Incident that will apparently be explained in the game. He is joined by his best friend and obvious Dom-Expy Delmont "Del" Walker, who went AWOL along with him after being involved in the same incident; and Kait Diaz, a young girl who is one of the Outsiders, essentially the new version of Stranded, though it's confirmed that the COG-Outsider relationship will be different from the COG-Stranded one. The campaign will have 2-player co-op, with the second player getting a choice between either Del or Kait. Other confirmed characters are Reyna, Kait's mother and leader of the Outsiders; and Oscar, Kait's uncle, a former Gear and an expert survivalist (level of craziness not yet confirmed).
The enemy faction is the Swarm, a suspiciously Locust-like race that has shown up out of the blue and started kidnapping people. The COG will function as secondary antagonists, as they think it's the Outsiders who are kidnapping people and are sending their new Mecha-Mooks, the DeeBees, to deal with the situation. DeeBees were developed by the COG to maintain order and peace within their walled colonies following the wake of the Locust War, as well as do dangerous jobs such as construction that have a high risk of injury or death so that humans don't have to do them and can focus on repopulating. However, the biggest enemy in the game is probably going to be the weather. Adam Fenix's weapon at the end of Gears 3 apparently had the nasty side effect of turning Sera's already-deadly weather up to eleven, and throughout the game the trio will encounter "wind flares", essentially fire and lightning inside a tornado. The strong winds will even affect the trajectory of bullets and thrown grenades, and the wind flares contain deadly "storm walls", Mother Nature's answer to the Hammer of Dawn. Also, it's been implied that they can happen at random, as well as at predetermined points in the story. Multiplayer, however, seems safe from deadly weather (at least for now).
The game is bringing back some of the horror and suspense elements of Gears 1, rifles such as the Hammerburst and Lancer now have stocks, and the latter has an attached flashlight to assist in navigating through dark areas (looks like Dom got his wish). Also, the Gnasher now has a rack of shotgun shells on it, which serves no purpose other than looking cool. New weapons include the Dropshot,note A replacement for the Digger Launcher that fires a drill that flies above the ground in a straight line for as long as you hold the trigger. Letting go of the trigger causes it to fall to the ground and explode. the Buzzkill,note A heavy weapon that rapidly launches buzzsaws that can bounce off walls, but can also kill the user. and the DeeBee arsenal: the Enforcer SMG, the Tri-Shot,note A gatling gun whose firing rate slows down the longer it is fired, but boasts superior accuracy and damage than the Mulcher. the RL-4 Salvo,note A heavy weapon that fires volleys of rockets that are difficult to aim and can also kill the user. the Overkill shotgun,note Fires one shot when you press the trigger and another when you release it. and the Embar sniper rifle.note Semi-auto, but lacks a scope (since robots don't need one). It also seemingly must be charged to get an accurate shot. There is also the new ability to grab an enemy from across a piece of cover and pull them over to your side, then stab them to death with a knife. The knife can also be used after a vault kick. It's also now possible to quickly vault over cover in the middle of a roadie run by tapping B as you approach it.
The story takes place over the course of a single night.
Watch the trailer.
Also, check out the gameplay launch trailer.
---
A film adaptation is currently in the works, though plagued with
Development Hell
, and the third game is the last to feature Delta Squad. A series of comic books
expand on the backstory and what happens between the games
, alongside a collection of five novels by noted sci-fi scribe
Karen Traviss
.
---
Tropes to the end:
open/close all folders
Tropes A-F
Tropes G-L
Tropes M-R
Tropes S-Z
Sad Clown:

Dom intially, even more so in the third game.
Cole gets some moments suggesting this early in the third game when he visits the ruins of his Doomed Hometown. He may be a Boisterous Bruiser Big Guy who loves the adrenaline rush of sports and combat, but he is also clearly haunted by memories of happier times which will never come again.

Sadistic Choice: Del or JD near the end of 5. Whomever you didn't save gets his neck broken by the reanimated Reyna. And no, you can't Take a Third Option and go for the head, either.
Sand Worm: The Riftworm. 5 introduces an actual Sand Worm, the Kraken.
Scary Black Man: Twice averted with Cole. "The Cole Train" looks to be the most musclar character in a game full of bulky-armoured men, and one probably wouldn't want to fight him, but he's probably also among the nicest characters as well. Jace is black, and pretty big (although by comparison to Marcus and Cole, he's notably small) and has cornrows, yet he's written as the sweetest character in the games and Expanded Universe (notably, Michael B. Jordan portrays Wallace in The Wire, who's known for playing that type of character). Probably the straightest example of this trope is Aaron Griffin, who even seems to frighten the men under him.
Scenery Porn: 3 really shows off just how good the Unreal engine can be with the proper amount of time and effort. From the beautifully-rendered and colourful daytime maps like Mercy and Sandbar to the gloomy and soaking wet remake of Bullet Marsh, it's clear that Epic didn't cut any corners.

Gears 4 also to the point that some Coalition employees were sent to northern italy with the sole purpose to study the terrain and use the data in gear 4. Also the reason why the campaign was locked to 30 FPS on console so to maintain higher fidelity...the results were widely acclaimed.

Schizo Tech: By the time of the Gears of War 4, Sera has faced three events worthy of being dubbed an apocalypse (Emergence Day, the scorching of the surface with the Hammer of Dawn, Adam Fenix's Imulsion Countermeasure Weapon), and that's only counting the human ones (the Locust had their own, unique End of the World as We Know It with the emergence of the Lambent before Emergence Day). As a result, there's a mixture of high technology, Lost Technology, and Used Future functional tech that's much simpler. This becomes especially true when exploring ruins dating to the Pendulum Wars (before all of said apocalypses), where the tech on display is intentionally reminiscent of the 1980s, featuring beige keyboards and cathode ray tube monitors. Locust tech throws an extra layer in the works, tending to be brutally functional and rarely refined.

As an example, Gears 5 has the player take an autonomous robot capable of levitation and invisibility to a space center modeled after those of the Soviet Union, reaching it via a sail-powered skiff.
Many weapons in-game are intentionally anachronistic to show off nearly a century of desperate war and the industrial corner-cutting that inspires. For example, the iconic Lancer machine gun comes equipped with a 17 inch sword bayonet reminiscent of the Napoleonic Wars, a chainsaw, or a grenade launcher.

Score Multiplier: In 3, you can play an "Arcade" version of the campaign where your score is recorded in which enemies you kill. So many points reaches another multiplier level where you get more points for each kill and the multiplier goes down when a player character goes down, if a player is killed the score resets to X1.
Screaming Warrior: Pretty much everyone, especially when chainsawing, executing, or retro charging an opponent. Special mention goes to Tai, the Carmine brothers and Savage Drones.
Second Hour Superpower: In Gears 4, the iconic Jack of All Stats Chainsaw Lancer doesn't become available until Act 2, starting you with more niche weapons such as the Hammerburst and the Enforcer.
Sdrawkcab Name: The world of the Gears of War universe is named Sera, which is the Greek god Ares backwards. A fitting god for it, given he was a god of the untamed bloodlust and brutality of warfare.
Senseless Sacrifice: In Gears of War 3, going to Mercy costs Delta Squad time and

Dom

in their quest to acquire fuel to reach Azura.

They end up not even getting the fuel they went there for since Dom blew it all up to save them. In the cutscene, it seemed that Delta still had ammo for their weapons, so Dom could have jumped over to them and they all could have concentrated fire on the tanks to make an escape without him dying

. Not to undermine Dom's Heroic Sacrifice, but it could have been avoided.
Sergeant Rock: Marcus, when Benjamin's part of Delta Squad. Hoffman counts, as well.
Sequel Escalation: Each game seems to aim to be manlier, gorier and darker than the last, with the exception of Judgment, which is just one single long mission with a lone objective (stop/kill Karn), broken up into levels of course, all taking place in the port area of a city. There is another bonus mission taking place later in the timeline that is also about accomplishing one single objective (procure a boat). Gears 4, since it's based on the trilogy, seems to be invoking this in spades, as the game will take place over a twenty-four hour period as the rebuilding human civilization has to deal with the new threat of The Swarm.
Sequel Hook: The ending narration of the first game is a bona-fide hook. Wait until the end of the credits of the second game for another sequel hook. The data disk Adam gives to Baird is possibly another hook on the Left Hanging segments for Gears of War 3.

The end of the "Aftermath" campaign from Gears of War: Judgement

seems to imply that COG soldiers have been kidnapping people for unspecified reasons.

The end of Gears 4

reveals that Queen Myrrah was Reyna's mother and Kait's grandmother

.

"Shaggy Dog" Story: With the benefit of hindsight, each game in the trilogy actually has a case of this when examined. Let's count them, shall we?
Shell-Shock Silence: Several times in every game.
Shoot the Medic First: Those damn Kantus Priests!

In Gears 4, Scions revive fallen Swarm far less frequently (as their ability to do this is of a much shorter range than Kantus Priests), but they can also simultaneously buff the living ones, so which is a scenario where this applies as killing the Scion will undo the buff.

Short-Range Long-Range Weapon: The Longshot sniper rifle fits this trope well, except for one particular sequence in Gears of War 2 (see This Is for Emphasis, Bitch! below).

In Judgment, the Locust's modifications to the Markza sniper rifle to create the Breechshot included removing it's scope. Cole mocks the decision with "A sniper rifle with no scope? Ha! Those grubs are real geniuses!" (the real reason for this is, of course, Competitive Balance as the Breechshot does more damage than the Markza and can Boom, Headshot! faster much like the Longshot, while also having a larger magazine than the Longshot that doesn't need to be reloaded with every shot.)
In Gears 4 the DeeBee sniper rifle (the EMBAR) is a magnetic railgun without a scope, because robots don't need a scope to drill someone between the eyes at 100 yards. Humans picking it up, on the other hand, will not be as lucky. Again a point of balance as the EMBAR packs a lot of punch and has three rounds per mag.

Short-Range Shotgun: Averted in Gears of War 2, as the raw damage the Gnasher can inflict in close range was toned down from the first game but was balanced out by actually being an average weapon for medium range. Gears of War 3 introduces a double-barrled Sawed-Off Shotgun to give you a choice between the balanced Gnasher and this overspecialized shotgun. In fact, the Sawed Off's range is so short, the developers nicknamed it the "Bad Touch" gun since you'll need to be in that range to use it right.

Also completely averted with the new Overkill shotgun from Gears of War 4. This beast fires one round when the player presses the trigger and another when the trigger is released. You can potentially launch 8 successive shots within a few seconds at your unlucky targets and score headshots on them from 30 feet away. It has about the same range as a Lancer. Its sheer range and power makes it the easiest weapon in the franchise to score headshots with.
Tactics, on the other hand, brings the Gnasher back into hugging range. Which is fine, since the only class that uses it has a Game-Breaker spec that lets them spam grenades.

Shotguns Are Just Better: You'd be hard-pressed to find somebody online in any of the 3 games who doesn't primarily use the Gnasher, and oftentimes don't take very kindly to people using anything else. Epic themselves have admitted that the Gnasher is overpowered, and that they would like to nerf it, but they won't because of the enormous backlash they would receive from the Gnasher purists who make up a large part of the community.

Really, the Sawed-Off and Overkill shotguns are very effective in gameplay too, since you just have to get close to a target and blow them away in one shot rather than use a harder weapon and work for your kills.

Shoulders of Doom: Pretty much the whole Gear armor kit should prevent any kind of movement whatsoever if it were even vaguely realistic.
Shout-Out: Several to many sources.
Sigil Spam: The Crimson Omen. Gears of War 1 and 3 both use it as a marker inexplicitly to let you know a COG Tag is nearby. The other collectibles in 3 don't get them, unfortunately, and in 2 the COG Tags don't even get them.
Silliness Switch:

The mutators in added in 3 are divided into 'easy' 'hard' and 'fun' categories. The latter is composed of Big Head Mode, Flower Blood (which, sadly, disables all gore as well), Laugh Track (which is INCESSANT, like a terrible sitcom), Headless Chicken (which causes decapitated enemies to run around in a berserk rampage for a short time) and Pinata (which adds a collection minigame of sorts).
There are several multiplayer events that ramps up the silliness. Two prominent examples are the Halloween event that turns everyone's head into a jack-o'-lantern, and the "Thanksgibbing" playlist, where everyone starts with a Cluckshot that shoots explosive chickens!

Simultaneous Arcs: Gears of War 3 does this in the first act, half of which you play as Cole and his squad as they attempt to aid Marcus.
Sincerest Form of Flattery: The developers point to Resident Evil 4 as an influence, which then came full circle, as the developers of Resident Evil 5 bragged about their "Gears of War controls".
Small Girl, Big Gun: Anya, Samantha and Bernie in the third game. Though not petite, they are smaller than the male Gears. The hardcore players picked up on this fairly quickly.
Sophisticated as Hell: The "Young Adam Fenix" multiplayer skin has quips like this, since he's probably the smartest individual in the Gears Of War universe. "Kiss my highly educated ass!" indeed.
Sorting Algorithm of Evil:

Fairly blatantly used in 2. While talking about Skorge, Marcus states he "makes RAAM look like a Goddamn pushover". Somewhat justified by

linking the emergence of a "GIANT WORM!!!" to the Lightmass Bomb

.
Played with in 3- you start off against the new and explode-y Lambent, and fight them and the Locust in varied intervals. By the end of the game, though, the Locust you fight are loads and loads of Myrrah's Guards along with the bigger Boomers, Grinders, Armoured Kantus, etc. Possibly a Justified Trope that Myrrah only managed to get her elite forces to keep up with her and the main Locust force is kept at bay on Azura by the COG reinforcements.

Soundtrack Dissonance: A staple of the trailers and TV commercials for the series.

Joseph Kosinski's famous commercial for the original game where scenes of carnage are set to Gary Jules's cover of "Mad World".
The commercial for Gears of War 2 has Delta Squad drilling into Locust territory as Devotchka's "How It Ends" plays in the background.
The first announcement trailer for Gears of War 3 had "Heron Blue" by Sun Kil Moon (which does however contain some suspiciously appropriate lyrics about a city being drowned in God's tears, considering the ending of the second game).
A later trailer for Gears of War 3 had "Into Dust" by Mazzy Star.
For an in-game example, in Gears of War 3 Dom's Heroic Sacrifice, where he drives a truck into a fuel tank and sets off a massive explosion, is set to an instrumental version of Jules's "Mad World". The same instrumental will also play in multiplayer if a round of Versus is completed on Gridlock without any of the ash bodies being disturbed.
The "Tomorrow" trailer for Gears of War 4 had Disturbed's cover of "The Sound of Silence".

Spin-Offspring: Gears 4's main character JD Fenix is the son of Marcus and Anya. His teammate and possible Love Interest Kait Diaz is the granddaughter of Queen Myrrah. Also, one can consider

the DeeBees

to be

Baird's

"children", in a manner of speaking.
Spiteful A.I.: The DeeBees in Gears of War 4 are a very literal example of this. The campaign has both them and the Swarm trying to kill you rather than them, you know, actually protecting the human populace like they are supposed to. This is somewhat justified as JD and Del are defectors from the COG and Outsiders are considered criminals to the COG as well. This even extends to multiplayer, where they fight on the Swarm team rather than the COG (Their red color suggests that the Swarm hacked them on to their side).

To backtrack a little, your Ai squadmates in the first game exhibited this behavior with alarming frequency. They all too often jumped over their cover and charged straight into the Locusts' waiting guns. This was almost certainly done to make players do all the work themselves and came across as frustrating Fake Difficulty in that your squad was useless in an actual firefight, making going through Insane difficulty hellishly frustrating. Thankfully, this behavior was rectified for all the future games.

The Squad: Delta Squad, of course! It's in the name.
Squad Controls: You can order your team to either hold back or advance. These controls were dropped for the sequels.
The Squadette: Anya, Sam, and Bernie in Gears of War 3; Alicia in RAAM's Shadow.
The Smurfette Principle: Subverted in Gears of War 3. Delta Squad gets a total of three female Gears. Judgment and the Coalition sequels veer right back into this, however.
The Stoic: Marcus
Story to Gameplay Ratio: The first game was fairly low, it had a solid story with a beginning, middle and end but the gameplay didn't have much bearing on the story (Once Marcus and Dom do a game-enforced split-up to "cover more ground" but all it does is force you to play alone for a minute before coming back together on the same path). Gears 2 had a lot stronger storyline but carried a few similar "irrelevant to the story but cool anyway" set-ups (the deployable cover you find in the Nexus doesn't really do much). By Gears of War 3 almost all scenarios and gameplay shifts were designed to facilitate the story.
Stripperific: Averted in the third game, where this trope was mentioned in an interview. Female Gears will be wearing the same bulky armor on their upper-bodies, although they do wear skin-tight leggings instead of wearing baggy pants like the men, and by virtue of character design, they are still physically smaller than the men. They do manage to show at least some skin as Delta Squad switches to summer, sleeveless uniforms, but the game series is certainly gender balanced in Fanservice.
Suicidal Overconfidence:

In the first game, your teammates' propensity for vaulting over a perfectly good piece of cover in order to charge straight into enemy fire and get shot full of holes is absolutely ridiculous. Almost certainly a form of Fake Difficulty designed to make the player do all the work instead of letting the A.I. do most of the fighting. Rectified in the sequel with smarter squadmates less likely to break cover and do this (and who also can soak much more damage).
Locust in Gears 3's Horde mode are prone to doing this. It's rather interesting to watch a sniper of all things trying to rush at a primed and ready Mulcher.

Sword Drag: Running while holding a Locust meat cleaver will result in this
Take Cover!: THE Trope Codifier for the genre. The way Epic Games made it work compared to similar shooters was by shortening the distances you'd engage enemies (making the fighting generally more frantic) and evening out the durability of both sides (Locust are just as durable as you are). They also pointed towards playing paintball as an inspiration, as much of the game is trying to replicate the adrenaline rush you'd get in a Real Life combat situation and patiently waiting for an enemy to expose themselves. Lampshaded perfectly in the second game by Marcus:
Taken for Granite: Gears of War 3 features the city of Char filled with crowds of people who have been flash-fried into statues of ash, the first real depiction in the games of the absolute hell the Hammer of Dawn counterattacks have caused.
Teeth-Clenched Teamwork: Marcus and Baird do not get along very well, though they do gradually get on friendlier terms. By the second game, they mostly throw friendly insults at each other. Explained in-universe that Baird was initially resentful of Marcus given command over him or Cole, considering at the start of the games, he and Cole outranked him or Dom and, despite Marcus being a decorated Gear and war hero, Marcus was also discharged and imprisoned who is only active again because the military doesn't have a choice. In the novels, they finally do end up more or less getting along. Of note is that Baird is specifically mentioned to not be afraid of Marcus at all, just a little uneasy because he can't figure out what motivates him (which is how Baird classifies people).

Brought back in 3. While Marcus and Baird are now getting along, there is considerable friction between Baird and Sam in the first Acts, with them throwing all sorts of sarcastic quips at each other. The nature of their rivalry is implied to stem from Sam trying to be Dom's new Love Interest. They ease up considerably after Dom's Heroic Sacrifice.

By 4, Sam and Baird are an actual couple

That Came Out Wrong: Played for Laughs in Gears 5.

JD:

Okay, Swarm assholes have been wiped clean. Weird how that sounded.

Kait:

...yeah.

Let's just... move on. JD:

Okay, I'd appreciate that.

That Makes Me Feel Angry: Marcus sometimes shouts "Now I'm pissed!" upon being revived, and some Locust in Campaign may shout "RRRRRAAAAAGE!" while attacking you.

If you attempt to yank an opponent over cover in 4 while playing as Marcus and fail, he may mutter "That pisses me off!"

"The Reason You Suck" Speech: In Gears of War 3, Myrrah calls out on humanity being a bunch of genocidal monsters, just like how they view the Locust. It almost sounds hypocritical, considering Emergence Day,

until you realize Myrrah had no choice because of the Lambent

.
There Is No Kill Like Overkill: Gears Of War 2 allows characters to use mortars, miniguns and a multitude of over-the-top weaponry to kill mere infantry. Not to mention multiple characters can chainsaw a single enemy at the same time. That's not counting the ludicrous amount of overkill inherent to

using a Brumak

against hapless Locust.
The Squad: Delta Squad, of course.
This Is for Emphasis, Bitch!:

One segment in Gears of War 2 gives you free reign to snipe Locust from a ridge. Achieving five kills in a row with the sniper rifle, and Marcus will yell: "That's one. That's two! That's THREE! THAT'S FOUR! THAT'S FIVE, MOTHERFUCKERS!"
Delivered straight by Marcus when he guts Myrrah in Gears of War 3:

Marcus

: "

You feel that? That's from Dom... and everyone else you killed you bitch!

"
The Books provide examples of:
The Comics provide examples of:
---