"Iron from Ice."
— Forrester House Words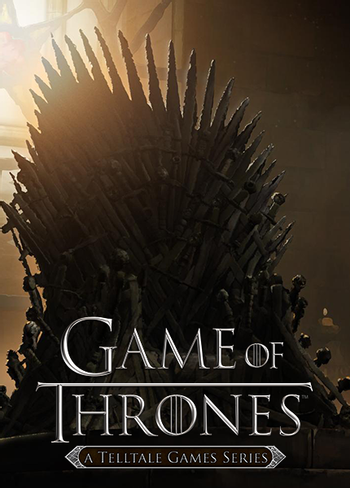 Game of Thrones is an episodic graphic adventure based on the A Song of Ice and Fire books and Game of Thrones television series. The first episode was released on December 2, 2014 for Microsoft Windows, OS X, PlayStation 3, PlayStation 4, Xbox 360 and Xbox One. The game is developed by Telltale Games in partnership with Ty Corey Franck, the personal assistant of the books' author George R. R. Martin, who works as the "story consultant". The game follows a similar episodic format to other Telltale titles, such as The Walking Dead, The Wolf Among Us, and Tales from the Borderlands, where player choices and actions have significant effects on later story elements across the six-episode arc.
The game takes place concurrently with the television series, from the end of the third season until just prior to the start of the fifth season, and includes voice work from the show's actors. However, the story's focus is on House Forrester, who were name-dropped in A Dance with Dragons but did not appear within the show itself. House Forrester's fief is the Ironwood forest just north of Winterfell, and their seat is Ironrath. The game primarily takes place near Ironrath, but includes established locations on both continents of Westeros and Essos. There are five playable protagonists, either as family members or servants of House Forrester.
Although Telltale announced that there would be a second season, the studio closed before it could be created. It has yet to be announced if LCG Entertainment's Telltale will take on the second season.
HERE BE GAME-WIDE SPOILERS. The story begins with a huge Late-Arrival Spoiler for anyone who has not read up to A Storm of Swords or reached the end of season 3 of the television adaption. Because of the story-heavy nature of the series, only spoilers for the last episode are marked to keep this page readable. It is best to experience the game first-hand (or a Let's Play series of it) before reading these pages.
---
Tropes
open/close all folders
A-M
N-Z
---