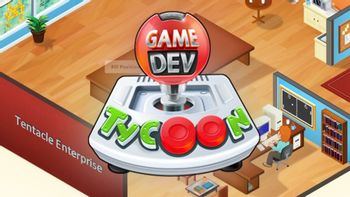 Game Dev Tycoon
is a
business sim
made by Daniel and Patrick Klug of
Greenheart Games
, two brothers from Australia with the goal of making a cheap, fun game that modeled itself after other Tycoon sims, and aimed to avoid
certain business practices
.
You start out in the 80's with little more than rudimentary technologies and your own ability; from there, gaming history will unfold, as strangely familiar companies step into the ring or fade into nothingness, while you advance from designing games alone in your garage to managing a big-name gaming giant of your own creation. Success is not easy to come by, however; your consumer base can be cruel, and gaming journalists even more so.
Noted for a particularly creative and Ironic Digital Piracy Is Evil Author Filibuster, where if you pirated the game in Real Life, your in-universe game fails on account of copious amounts of digital piracy.
Available for Windows, Mac and Linux. The Windows and Mac versions were released on Steam (thanks to Greenlight) August 29, 2013 (a separate version for Windows 8 is also available through the Windows Store). They ran into difficulties with licensing of the libraries used by the game on the Linux platform, which not only delayed the release of the Linux version on Steam, but caused the existing pre-Steam versions of the game to get pulled as well (ironic considering that Linux is supposed to be the most liberal platform that they're coding for). The issue was settled in October 2, 2013 and the Linux version was finally released to Steam on the same day.
An iOS port was released in November 2017 and an Android port followed shortly after in February 2018.
---
This game contains examples of:
419 Scam: One Random Event is receiving an error-filled email from a Nigerian company offering to invest millions in your company in return for a "one-time verification payment of 120K". Unsurprisingly, it's pure Schmuck Bait.
8.8: In-universe, it can be very disappointing if you sink a lot of money into a game, only to get 7s and 8s instead of the 9s and 10s (or 11s) you were hoping for.

However, the rating scale in the game is a true ten-point scale: 8.8 (or 8.75, the closest you can get) indicates a game that will sell very well, as it is very good, and will earn you a lot of fans. Even a 5.25 rating will probably make back your money invested, though only just before the game comes off the market. It's only when you have a 5.0 or lower that the game is considered to have more faults than features and is guaranteed to lose you money and fans.

20% More Awesome: Literally Invoked, but Averted in spirit. Your next game needs to be 20% better than your last 9.0 hit to score another 9.0+ review. Averted in that the game uses a complex 'quality rating' score that may seem vague and arbitrary, but isn't when you look under the hood.
Allegedly Free Game: Defied. Greenheart noted the trend among some of their competitors and purposefully steered clear of it.
And Your Reward Is Interior Decorating: A big part of advancing is improving your workspace, as you'll go from working out of your own garage to gradually larger and nicer studios.
April Fools' Day:
Bland-Name Product:

Happens by the truckload in the game, to both the platforms (i.e. Ninvento, Vena, Vony and Micronoft). It had to be done to write around trademarks.
If you release a game without naming it, you release it as "Game #x". In response, reviews might say "The name says it all" or "As generic as the name."

Broad Strokes:

How this game's timeline tends to skip over events in gaming history, despite reflecting most of it. The Game Boy, Game Boy Color and Game Boy Advance are all essentially treated as the same console. In addition, a good part of Sega's history is pretty much skipped over with the Sega Saturn being completely non-existent.
It also lumps in Apple Computers as just another PC maker note , and completely skips over Atari. Also, Godovore goes bankrupt after the C64-expy when in real life Commodore did release another top-selling computer that stayed in market for about a decade before being driven to bankruptcy by an embargo on the CD32 in the US.
The early-80s computer choices are limited to the PC and the C64 — no hint of the ZX Spectrum or the Amstrad CPC, although both were massive in Europe.

Broke the Rating Scale: If you manage to develop a perfect game (and the formula is rather precise), a reviewer will give you an 11/10 rating.
Captain Ersatz: The game uses this as the equivalent of Bland-Name Product when it comes to staff names. Again, to avoid possible legal problems with the real deal.

One famous programmer who may be available for hire is "Kevin Flin"
---