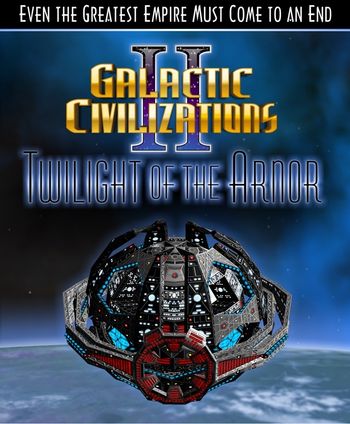 A
4X
game from Stardock. First released in 2003, a remake of the vintage OS/2 series, with an expansion pack in 2004. Received a sequel in 2006, abbreviated
Gal Civ 2
, with its own expansions in 2007 and 2008.
In the original, players took control of the Terran Alliance and faced up against five or seven enemy civilizations.
In the sequel, the player could take control of any one of 10 civilizations, or make their own. This was increased to 12 in the first expansion pack.
It is known for its advanced AI and its lack of intrusive Copy Protection.
Galactic Civilizations III
was revealed on Stardock's 20th anniversary. Its new features included multiplayer, political intrigue, and more mod support. It was released in mid-2015.
Galactic Civilizations IV
was revealed in May of 2021. It adds the new mechanic of the Subspace Streams, which connect distant regions of the galaxy with each other. It was released on the Epic Games Store in April 26, 2022.
---
Tropes present in the series include:
Planetary Core Manipulation: A Planetary Siege attack in Galactic Civilizations II involves "Detonating the planet's core," causing every volcano to erupt at once. Effective, but absolutely buggers Planet Quality.
---