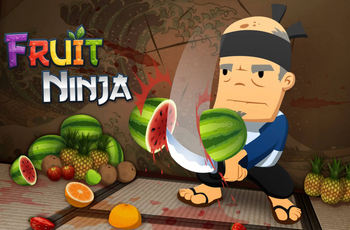 "You're a ninja, fruit is flying up in front of you, and fuck fruit! Sitting around all smug on trees and in pies."
When Life Gives You Lemons... chop them up in midair with a huge sword. If life gives you strawberries, watermelons or coconuts, same thing. After all, you are a ninja.
Fruit Ninja is a game developed by Halfbrick Studios in which you slice fruit with a virtual sword in a limited amount of time, trying to avoid slicing bombs as you go. Extra points and combos are awarded for slicing multiple fruits with one swipe. There are three main game modes.
In Classic, players must try to slice all of the fruit, because if they miss three fruits, Game Over. Players can get extra lives by reaching multiples of 100 on their score. A bonus pomegranate randomly shows up that you slice repeatedly for as many points as possible before it explodes. Slicing a bomb results in an instant game over.
In Zen, no bombs appear, and players aren't penalized for missing fruit, but there is a 90 second time limit. The goal is to slice as many fruits as possible before the time runs out. High scores in this mode will greatly depend on your ability to combo.
In Arcade, like Zen mode, players aren't penalized for missing fruit, and there is a time limit, this time being just 60 seconds. Three bonus bananas will appear at random: Frenzy (fruit starts to uncontrollably shoot out from the sides of the screen, and no bombs appear), Double Points (self-explanatory) and Freeze (slows down all the fruit and bombs, and stops the timer). Their effects can be combined (as in, one can get Double Points, then Frenzy, and rack up a massive score). Getting many combos in a row awards you bonus points, and begins a Blitz. During a Blitz, more fruit shoots up at a time and quicker, and every few consecutive combos awards more bonus points. If you don't get a new combo in a few seconds, the Blitz ends. Slicing a bomb takes 10 points off your score, and instantly ends a Blitz if you're in one. At the end, after slicing a bonus pomegranate, you are given three different score bonuses that depend on your performance. This mode was released as a standalone game for Facebook called Fruit Ninja Frenzy.
The game was originally released on April 21, 2010 for iOS, then later Android, Windows Phone, Symbian, Bada and PlayStation Vita. The game was a Breakthrough Hit for Halfbrick, and spawned variety of media.
Video Games
Fruit Ninja Kinect (2011) - A console port for the Xbox 360's Kinect peripheral, praised for being one of the most effective games for the motion control device.

Fruit Ninja Kinect 2 (2015) - The sequel for the Xbox One, which involves having to dodge shurikens and other objects as you slice.

Fruit Ninja: Puss in Boots (2011) - A License-Added Game/crossover with Puss in Boots (2011). Includes two modes: Desperado, enhanced Classic mode, and Bandito, a series of mini-games.
Fruit Ninja vs Skittles (2013) - An advertisement for Skittles. Features enhanced Arcade Mode.
Fruit Ninja FX (2011) and Fruit Ninja FX 2 (2012) - an arcade redemption games made by Adrenaline Amusements.
Fruit Ninja Academy: Math Master (2015) - Edutainment Game for iOS, made for learning basic math.
Fruit Ninja VR (2016) - Virtual Reality game released for HTC Vive, Oculus Rift and PlayStation VR. Alongside three default game modes, features new Survival mode, which involves face-off against fruit-firing helicopters.

Fruit Ninja VR 2 (2021) - The sequel, which now allows to use a bow as a weapon.

Fruit Ninja 2 (2020; Soft launched as Fruit Ninja Fight in 2018) - Features online multiplayer as its primary focus. Reintroduces Bandito from Puss in Boots spin-off as Minigame Mix and adds Fruitar Hero game mode.
Animated series
Fruit Ninja Origins - a series of 5 shorts made in 2014. Later media and the original game as of an update would all use this series' setting and characters. (Aside from Sensei, who was introduced as far back as the original game's release.
Fruit Ninja Frezy Force! - YouTube Originals children animation series, which takes place 1000 years after Fruit Ninja Origins.
Comic Books
Dynamite® Fruit Ninja - 3 issue comic book series by Dynamite Entertainment. Each issue consist of three parts, based on original Fruit Ninja, Frenzy Force and Jetpack Joyride.
Fruit Ninja Universe - Another comic book series by Keenspot.
Tabletop Games
Fruit Ninja: Slice of Life - a dexterity game involving flipping over the required fruit.
Fruit Ninja Card Game - a card game involving slicing the deck.
Fruit Ninja: Combo Party.
Crossover appearances
Barry Steakfries series is frequently cross-referenced with Fruit Ninja.

Monster Dash (2010) - Fruit Ninja Blade was added as a DLC weapon to celebrate the series' 5th anniversary with bombs serving as one of the obstacles.
Jetpack Joyride (2011) - Features several references to Fruit Ninja, including Fruit Jetpack, Sensei's clothing for Barry and Fruit Ninja-themed event, "Cut & Run".

Minecraft (2011) - Sensei's skin was added as part of Skin Pack 4.
Radical Rappelling (2015) - Clothing based on Gutsu and Sensei for Rip and Roxy were added as part of the series' 5th anniversary celebration.
Magic Brick Wars (2019) - Truffles, Sensei, Watermelon Ninja and Koya from Fruit Ninja 2 (Referred to as "Mysterious Ninja" here) were unlockable avatars. The game featured Fruit Ninja-themed event on summer 2020 for its 10th anniversary, which included FN-themed emotes, banners and frames.
Battle Racing Stars (2020) - Massive Multiplayer Crossover Racing Game featuring Mari, Sensei and Katsuronote as playable characters and three Fruitasia stages, directly based on the main setting of the franchise.
---
Welcome to the dojo, ninja. Your objective: become a master of slicing tropes!
Absurdly Sharp Blade: The blades are sharp enough to cut coconuts right in half with one slice and make a bomb explode by simply touching it.
All There in the Manual:

Fruit Ninja Origins web-series introduced a proper plot for the franchise. The game now takes place in "Fruitasia", where 4 students (Katsuro, Mari, Han and Nobu) learn the way of cutting Fruit under Sensei's guidance.
More appropriately titled Fruit Ninja: Ancient Origins comic book by Keenspot introduces a proper backstory for each character. Some of them, such as Katsuro being a lone urchin, were acknowledged in Fruit Ninja 2.

And Your Reward Is Clothes: Well, not clothes, but you can unlock new backgrounds and blades. As more straight example, Fruit Ninja 2 allows you to unlock various characters and skins for them. This has been downplayed since the 2.0 update as all blades now have special abilities.
---