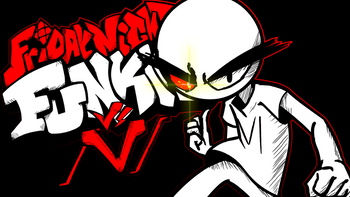 Friday Night Fankan is a Friday Night Funkin' Game Mod developed by an anonymous 4chan user on 2021. Where you fight against the Anthropomorphic Personification of the /v/ board on 4chan.
The mod's plot starts when Boyfriend and Girlfriend are teleported into 4chan in another one of Daddy Dearest's schemes to try and get Boyfriend killed.
When they land, they accidentally mess up /v/-tan's score on Um Jammer Lammy, making him rage and challenge Boyfriend to a rap battle, and if he wins, Boyfriend has to disappear off the face of Earth.
The mod also has 3 bonus songs where you have to fight against the king of /b/ Cancer Lord, the Consolezord from NCH Production's /v/ rage remaster, and Chuck and Sneed from The Simpsons respectively.
Song List:
Vidyagaems
Sage
Harmony
Infinigger (Bonus Song against Cancer Lord)
Sneed (Bonus Song against Chuck & Sneed)
No Games (Bonus Song against Consolezord)
Birthday (Bonus Song against Hiro)
---
Friday Night Fankan provides examples of.