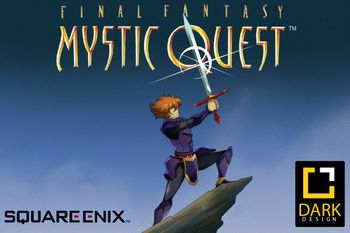 Final Fantasy Mystic Quest Remastered
(a.k.a.
Mystic Quest Remastered
or
MQR
) is a
Fan Remake
of
Final Fantasy Mystic Quest
created by Dark Design Studios using RPG Maker. It maintains the plot and flow of the original game but engages in numerous points of
Adaptation Expansion
with new equipment, areas, bosses and a change up in the party line-up at various points in the game.
Out of the completed versions, v1.7a contains more overall changes while the latest, v2, returns to being more like the original game while keeping many of the remaining changes.
The official release will never happen. Dark Design attempted to sell their game and began charging for pre-orders, claiming they had Approval of God. They didn't, and the the entire project has been shut down at Square Enix's request, and the development files destroyed by Kisareth Studios (the company that acquired Dark Design). A video going into more detail about the situation made by Kisareth employee's can be found here.
---
This game contains examples of:
---