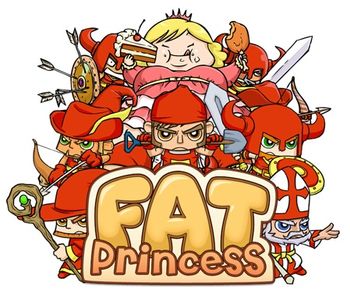 Fat Princess is a MOBA for the PlayStation 3 where each of up to 32 players plays as individual soldiers in the Red or Blue armies. Players choose classes by putting on hats that spawn in the teams' castles or drop from dead enemies.
The six classes:
And in the new Downloadable Content, 3 more classes were added. These include:
Ninja - Attacks with a sword and can throw shurikens. Can also turn invisible, enabling the Ninja to walk through castle doors and kill opponents in one hit if the Ninja is behind the enemy..
Giant - The Mighty Glacier of the game. Can cause a huge amount of destruction but cannot heal itself by standing still and cannot pick up the princess. The only way for the Giant to heal itself is to eat an enemy!
Pirate - Carries a cutlass and a gun into battle. The Pirate can also fire a cannonball from...somewhere in front of him, causing great amount of damage to enemies and castle doors alike.
The main game mode "Rescue the Princess" plays like a classic Capture the Flag match. Each team starts with the enemy princess captive in their castle. To win the match, the Princess must be rescued and returned to her castle's throne room, while keeping the enemy princess safely imprisoned. You can hamper the enemy's rescue efforts by picking up cakes that spawn around the map and feeding them to the captive Princess. This turns her into a well... Fat Princess that takes more players to move.
On April 26, 2012, the title princess was announced as a playable character in PlayStation All-Stars Battle Royale, aided by the classes.
A sequel, Fat Princess Adventures, has been relased.
---
Fat Tropes:
---