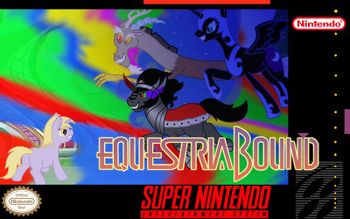 An EarthBound (1994) ROM hack, similar to how Pony Fantasy VI is one of Final Fantasy VI. In the continuity of My Little Pony: Friendship Is Magic, it seems to take place sometime mid-Season 3, as stuff like King Sombra is referenced but other things such as the Elements of Harmony still being a thing at this point and Twilight Sparkle still being a unicorn instead of an alicorn, and Discord still being a villain are present and treated as normal.
The plot kicks off when a meteor crash lands one night near Dinky Hooves' house. Setting out to figure out what's going on not unlike how Ness did in the original, she eventually goes through similar events where Diamond Tiara knocks on her door and asks her to find Silver Spoon, not unlike Pokey/Porky did to find his younger brother Picky in the original, and eventually encounters Princess Luna (who use the last of her magic to transform herself into a fly to escape from the evil threatening the future) who comes from the future where the evil spirit that possessed her has returned and took over Twilight Sparkle's body as its host to render the elements useless, eventually reducing the Element of Magic itself to a husk, with the others likely destroyed.
Originally attempting to go to Twilight herself with Dinky guiding her, at the "persuasion" of Tiara and Silver Spoon, Dinky drops them off at their house first, where (much like Buzz Buzz in the original) Luna gets swatted down by their mother. Distraught that all her efforts were in vain, she is about to give up hope until she gets an idea: after seeing how Dinky handled herself in battle, and theorizing that she may one day be able to use the husk element as her own, gives the remaining husk of the element of Magic to her, and tells her to go see Twilight. Upon doing so, Twilight, although a bit skeptical at first, tells her the elements from their current time should be able to restore it, at which point it can hopefully purge the spirit controlling her future self.
Things won't be that simple, though. After Discord and Chrysalis managed to get ahold of the Elements of Harmony before they could use it against them, they scattered them amongst the lands of Equestria and only they are aware of where they're at, with Twilight herself teleporting her element to a random location that even she's not sure where it is (which she admits was a stupid move in hindsight).
In hopes that she can restore the element back to its normal self and stop the Bad Future from happening, Dinky sets out on an adventure, having to work with the main cast in hopes of finding where they hid their Elements, hopefully restore the future Element of Magic back to its former glory, and stop the spirit of Nightmare Moon once and for all. She is not alone, however, as she is soon accompanied by the rest of the Cutie Mark Crusaders, who are more than willing to help a fellow filly out (especially if it gets them their "World Saviors" cutie mark in the process).
While the plot of the game itself is essentially EarthBound with a Friendship is Magic makeover, that doesn't mean it doesn't have any interest for those who don't just want to replay EarthBound but with ponies.
While some areas remain the same like Onett being renamed Ponyville, other areas have been completely reskinned based on locations from the show, and while some enemies may be EarthBound enemies by another name (the Parasprites being Spiteful Crows, for example) it also adds in a whole new slew of bosses, original enemies, and does quite a few minor tweaking to some aspects that were in EarthBound. Additionally, while there's still lines from the original game present, there's also a lot of new, humorous dialogue added as well. The difficulty is also notably increased in comparison to EarthBound. Not to Kaizo insanity lengths, but enough that it'll make you actually consider using certain PSI and items you normally wouldn't in the original - Paralysis, Flash, Shields, and even stuff like the Neutralizer and Secret Herbs.
Overall, while it starts off slow it eventually finds its own wings, and is at least worth a look if you're normally not into these kinds of things.
The patch can be found here
, though as per-Wiki policy you'll have to find an EarthBound ROM on your own.
---
This hack contains examples of:
---