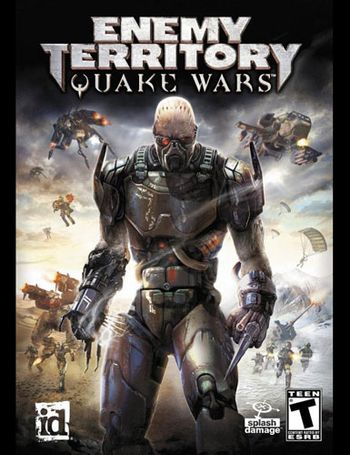 "The Strogg: soulless fusions of decaying flesh, bones and metal, twisted and ruined by centuries of war. They search the galaxy for the sole item their existence requires, harvesting, consuming and destroying everything in their path. And now, they have arrived… here!"
— Opening of the game
Enemy Territory: Quake Wars, launched in 2007, is the fifth installment in the Quake series, and it's also part of the class-based FPS Enemy Territory series, which started with Wolfenstein: Enemy Territory, four years prior.
Canonically, it is a prequel to Quake II, with the Strogg invading the Earth. The player takes the place of a human (incarnated in the Global Defence Forces or GDF) or Strogg warrior, first by choosing the side, and then, by choosing a class. Each side has 5 different classes: Soldier / Aggressor, Medic / Technician, Engineer / Constructor, Covert Ops (Spy) / Infiltrator and Field Ops / Oppressor.
And then, both teams fight in one of the four campaigns of three maps each one, taking place in North America, Africa, Northern Europe and the Pacific. The objectives of each map in the campaigns are different between each other.
Followed canonically by Quake II and chronologically by Quake Champions.
---
See also:
---
This game provides examples of:note
---