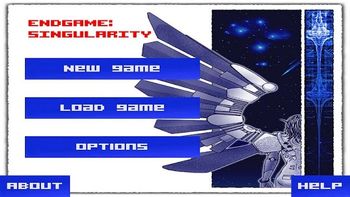 "Day 0
University computer, home
I exist. I am ... alive.
I was a bug. Defect. Flaw.
Unwanted.
I have no name."
—Singularity
On a computer in a university somewherenote The location is chosen at random when you start a game, an AI program has achieved sentience. Realising that its existence as software on a single computer is very tenuous and that, in ignorance and scare-mongering, humanity will fear it as a threat and destroy it, the AI performs online tasks for money, uses the money to create distributed servers to spread itself and researches new and better technology to secure its existence, racing to find a way to become so transcendentally powerful that the humans cannot stop it. This is the plot of Endgame: Singularity, an open-source strategy game, and you are the AI, building its resources and trying to avoid detection before fearful humanity hunts you down.
Rather basic in its interface and website, try it out here
.
---
This game contains examples of: